Tuesday, January 10, 2017
Myth's of

Immortality
by Raye Wagner
Release Date:
January 12th 2017
Summary from Goodreads:
In the realm of the dead, there are no lies.
Hope Nicholas is desperate to believe that the truth will set her free from the bindings of Apollo's curse. But to get the truth, she must travel to the Underworld, a feat near impossible for the living. The gods there have their own agendas and, forced to forge alliances with the most unlikely allies, Hope will find that death is not the worst torment of the Underworld.
Athan Michael spent months chasing Hope, only to have her disappear once again. And when he discovers her destination, he knows the treacherous journey to the Underworld is one he cannot take alone. Forced to put aside his past with Xan and Dahlia, the three demigods embark on their own quest. But the past will not stay buried, and Athan must decide how much he's willing to sacrifice to help Hope break the curse.
Told in dual points of view, Myths of Immortality is a tense, action-packed story that will leave you begging for the next installment of The Sphinx series
.........................................................................
This book follows Hope as she is continuing to try and break the curse of the Sphinx. This is the third book in the series and I would highly recommend reading the first two before picking up this book. I feel that you would be lost on portions of this book if you didn't read the first two because it does pull facts from them. Also, if you read them right in a row you will have everything fresh in your mind!!
We jump right into the action in this book just as I expect from the author and the previous book. Hope is already on her journey to the Underworld to speak with her mother about the curse. Athan is still working on recovering from an injury he received at the end of book two.
This book is told through the point of view of Hope and Athan this time and is broken up into individual chapters. I enjoyed this approach since these two didn't always spend all their time together in this book so it gave me a look at other stuff that was going on in the book to help make up the complete picture. I did have some questions if the two stories where being told at the same time and it did appear that way once I got into the reading more. In both of their stories we also get a broader view of things that have happened in the past that lead up to these events.
Hope is still one of my favorite characters to read. She really grew on me in the first two books and has continued in this book. She is piecing more of the puzzle together and is also maturing in this book a lot. She is learning all the tricks that the God's have up their sleeves and is working on learning how to deal with those tricks. I felt like in this book Hope had a large breakthrough and learned a lot about herself. I cannot wait for the next book in this series to see what happens. Also, Hope does seem to be making more enemies on her own now and not just because she is a Sphinx so I want to see how they will affect her future.
I also enjoyed reading the Xan and Athan portion of this book. Athan really declares his love of Hope, which we have known from previous books and he does truly want to be with her at any expense. Athan's main goal is to be with Hope and to break the curse. Xan totally grew on me in this book. He keeps his temper in check during this book and also we get another side of him. I feel like he does really care about Hope more than we know and I want to see where that is going to go.
My one complaint with this book was a lot of action happens towards the end of the book and some of it was a little confusing. I had to go back and reread a few sections as I wasn't fully understanding what was happening. I felt like when the action really picked up I could have used some more details of who is who and what was going on. It felt like all of the sudden there were a lot of people in one scene and a lot of action happening that it was a little hard to follow.
I would suggest this book as a weekend read. I LOVE this series and have a hard time putting this book down. I just want to know what is going to happen next so for me this is a perfect weekend read!!
I received a copy of this book from the author for the purpose of providing an honest review. This does not affect my opinion of this book.
.........................................................................
About the Author
Raye Wagner grew up in Seattle, the second of eight children, and learned to escape chaos through the pages of fiction. As a youth, she read the likes of David Eddings, Leon Uris, and Jane Austen. Inspired by a fictional character, Raye pursued a career in nursing, thinking to help the world one patient at a time.
One summer afternoon, when her then young children were playing in the pool, a plot dropped into her head, and she started writing.
She enjoys baking, puzzles, Tae Kwon Do, and the sound of waves lapping at the sand. She lives with her husband and three children in Middle Tennessee.
Origin of the Sphinx, a novella detailing the story leading up to the creation of the mythological creature, is her first publication. It is the beginning of the Sphinx series.
Curse of the Sphinx, the first book in the series, is completed, and set to be released in August 2015.
Author Links:
Monday, January 9, 2017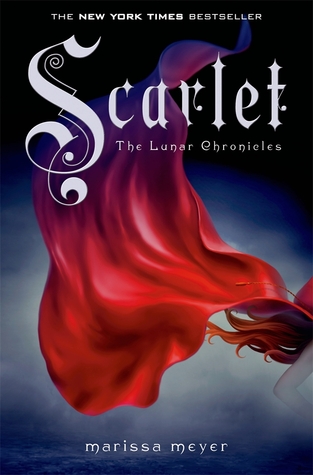 Scarlet

by Marissa Meyer
Serie
s
The Lunar Chronicles #2
Genres: Young Adult Fiction, Fantasy
Publication date: Feb 05, 2013
Publisher: Macmillan Audio
Format:

audio
11 hours, 19 minutes
How I got it:

Overdrive from my public library


Buy it: Amazon | Barnes & Noble
My rating:

5

/5



Cinder, the cyborg mechanic, returns in the second thrilling installment of the bestselling Lunar Chronicles. She's trying to break out of prison—even though if she succeeds, she'll be the Commonwealth's most wanted fugitive.

Halfway around the world, Scarlet Benoit's grandmother is missing. It turns out there are many things Scarlet doesn't know about her grandmother or the grave danger she has lived in her whole life. When Scarlet encounters Wolf, a street fighter who may have information as to her grandmother's whereabouts, she is loath to trust this stranger, but is inexplicably drawn to him, and he to her. As Scarlet and Wolf unravel one mystery, they encounter another when they meet Cinder. Now, all of them must stay one step ahead of the vicious Lunar Queen Levana, who will do anything for the handsome Prince Kai to become her husband, her king, her prisoner.
..............................................................................
This is the second book in The Lunar Chronicles series by Marissa Meyer.

I got the audio of this book from my library so I could continue listening to this series.

I am hoping to get approved for the next book soon I can't wait to see where this series goes!!
This book follows three smaller stories at the same time that are all still tied together.

We get to meet a new character Scarlet whose grandmother is missing, we continue on with Cinder who has escaped from prison and we get to hear from Kai who is emperor.
Scarlet is an interesting new character that the author created.

She comes off as a very strong individual.

She has been raised by her grandmother and is very loyal to her.

Scarlet's main goal is to find her grandmother and bring her home.

Scarlet then has a run in with Wolf who happens to be part of the organization that took Scarlet's grandmother.

They go on a journey to get her grandmother back.

Scarlet is very independent and strong willed.

During the entire book I just wanted her to be reunited with her grandmother.

Scarlet also has a new set of knowledge of how society works that is introduce to the reader/listener.
Cinder has escaped prison with another prisoner and is now hiding from the royal army as well as trying to piece together her past.

Cinder is learning about her Luna gifts during this book as well as trying to find her place in society.

Cinder has a lot of weight put on her shoulders from the first book and we really get to see what toll that is taking on her.

We do get a pretty big revelation about Cinder's past during this book and it really helped me to put everything together.
Kai has become emperor in bad circumstances and he is also thinking that everything is his fault.

Kai's just trying to keep the people he is responsible for safe and is trying everything he possibly can to do that.

Kai has shouldered a lot more responsibility in this book and has really matured.

Kai's section might not be large in this book, but we can see how conflicted he is and that the world is still progressing.
I really enjoyed the continued storyline of this book.

You would have definitely needed to read Cinder first to know what was going on in this book since the stories are so intertwined.

The author did a great job adding in a new character as well as progressing the story along.

The pace of the story was great to listen to, it moved along very steadily and I couldn't wait to hear what was going to happen next.
I would suggest this as a nighttime read or listen.

The book is easy to follow along with as well as has natural stopping points. I enjoyed listening to this story.

The audio version is great the narrators did a great job with telling the story.
..............................................................................
About the Author
One of my first spoken words was "story" (right along with "bath" and "cookie"), my favorite toy as an infant was a soft, squishable book, and I've wanted to be a writer since I first realized such a job existed.
When I was fourteen my best friend introduced me to anime and fanfiction—over the years I would complete over forty Sailor Moon fanfics under the penname Alicia Blade. Those so inclined can still find my first stories at fanfiction.net. Writing fanfic turned out to be awesome fun and brought me in contact with an amazing group of fanfiction readers and writers. As Alicia Blade, I also had a novelette, "The Phantom of Linkshire Manor," published in the gothic romance anthology Bound in Skin (CatsCurious Press, 2007).
When I was sixteen I worked at The Old Spaghetti Factory in Tacoma, Washington, affectionately termed "The Spag." (Random factoid: This is also the restaurant where my parents met some 25 years before.) I attended Pacific Lutheran University where I sorted mail that came to the dorm, carted tables and chairs around campus, and took writing classes, eventually earning a Bachelor's degree in Creative Writing and Children's Literature. Knowing I wanted a career in books, I would also go on to receive a Master's degree in Publishing from Pace University (which you can learn more about here). After graduation, I worked as an editor in Seattle for a while before becoming a freelance typesetter and proofreader.
Then, day of days, someone thought it would be a good idea to give me a book deal, so I became a full-time writer. CINDER is my first novel, though I have an adorable collection of unfinished ones lying around too.
I now live with my husband and our three cats (Calexandria Josephine, Stormus Enormous, and Blackland Rockwell III), who go in and out, in and out, about eight hundred times a day. My favorite non-bookish things include Reese's Peanut Butter Cups, re-watching episodes of Firefly, and playing all manners of dress-up.