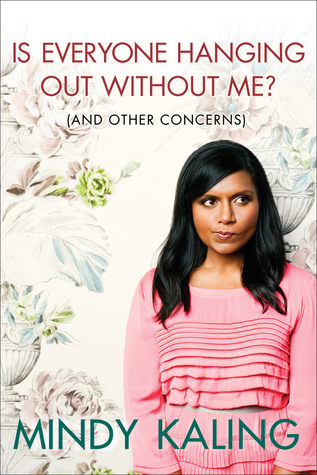 Is Everyone Hanging Out

Without Me? (And Other Concerns) by
Mindy Kaling
Genres: Nonfiction, Humor, Memoir
Publication date: Nov 01, 2011
Publisher: Penguin Random House Audio Publishing Group
Format:

Audiobook -

4 hours, 37 minutes
How I got it: My public library
Buy it: Amazon | Barnes & Noble
My rating:

4

/5



Mindy Kaling has lived many lives: the obedient child of immigrant professionals, a timid chubster afraid of her own bike, a Ben Affleck–impersonating Off-Broadway performer and playwright, and, finally, a comedy writer and actress prone to starting fights with her friends and coworkers with the sentence "Can I just say one last thing about this, and then I swear I'll shut up about it?"

Perhaps you want to know what Mindy thinks makes a great best friend (someone who will fill your prescription in the middle of the night), or what makes a great guy (one who is aware of all elderly people in any room at any time and acts accordingly), or what is the perfect amount of fame (so famous you can never get convicted of murder in a court of law), or how to maintain a trim figure (you will not find that information in these pages). If so, you've come to the right book, mostly!

In Is Everyone Hanging Out Without Me?, Mindy invites readers on a tour of her life and her unscientific observations on romance, friendship, and Hollywood, with several conveniently placed stopping points for you to run errands and make phone calls. Mindy Kaling really is just a Girl Next Door—not so much literally anywhere in the continental United States, but definitely if you live in India or Sri Lanka.
..............................................................................
I listened to the audio version of Mindy Kaling's book
Is Everyone Hanging Out

Without Me? (And Other Concerns). The audio version is narrated by Mindy and it is great listen!
The book is split into many smaller chapters that are easy to follow along with while Mindy is narrating the book. So there are a lot of natural stopping points in the book. The audio flowed very well and it was super easy to listen too.
The book follows along Mindy's life from child to adult. The story is really a coming to adulthood memoir with a lot of funny
anecdotes
mixed in between. It explains what struggles Mindy has met in her life and her career. It also shows how dedicated she is to her career in writing and comedy.
I think one of the funniest parts is towards the end when Mindy is discussing movies that she would like to remake and the all female Ghostbusters, which actually happened and had a lot of controversy like she mentioned.
The story does have a lot of current event mentions as well as references to the Office. I watched a lot of The Office, but not every episode and I still was able to appreciate that section of the book. She mentions names of cast members, but you don't need to know exactly who they are to appreciate what she is talking about during this section. When reading memoirs I try and ignore the names sometimes I don't know because the story is the funny part and what we get to learn about Mindy in those sections.
Mindy shows a lot of growth in this book. I enjoyed getting to hear about how she began her career and how it wasn't easy in the beginning. I also really loved the section on the Irish good-bye because I feel like everyone has been in that situation where you want to leave, but saying good-bye to everyone feels like it might take forever.
I would suggest this as a great read/listen to at night. I really enjoyed the humor that came through the audio with Mindy reading it and it was perfect to unwind at the end of the day. The book has a lot of funny

anecdotes

to keep you enter

tained.
..............................................................................
About the Author