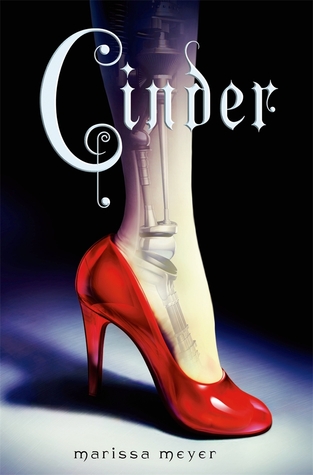 Cinder

by Marissa Meyer
Serie
s
The Lunar Chronicles #1
Genres: Young Adult Fiction, Fantasy
Publication date: Jan 03, 2012
Publisher: Macmillan Audio
Format:

audio
10 hours, 2 minutes


How I got it:

Overdrive from my public library


Buy it: Amazon | Barnes & Noble
My rating:

5

/5



Humans and androids crowd the raucous streets of New Beijing. A deadly plague ravages the population. From space, a ruthless lunar people watch, waiting to make their move. No one knows that Earth's fate hinges on one girl.

Cinder, a gifted mechanic, is a cyborg. She's a second-class citizen with a mysterious past, reviled by her stepmother and blamed for her stepsister's illness. But when her life becomes intertwined with the handsome Prince Kai's, she suddenly finds herself at the center of an intergalactic struggle, and a forbidden attraction. Caught between duty and freedom, loyalty and betrayal, she must uncover secrets about her past in order to protect her world's future.
..............................................................................
Cinder, the main character, is a half human half robot due to an accident that happened when she was very little.

Cinder doesn't remember anything from her childhood only the part where she is adopted and her adopted father has passed away.

Cinder's adopted mother doesn't want much to do with her besides making her go to work and support the family.

Cinder is a mechanic who works at the town center to make money.

The prince seeks out Cinder to help fix a machine and she accepts the job.

Cinder then gets pulled into a much larger world then she ever knew.

The other large issue that is facing the world is that there is a disease going around that is killing a large portion of the people and is highly contagious.
I loved Cinder as the main character.

The entire story is told through the eyes of Cinder and I felt like as a listener I really got a complete picture of what was going on.

The author has such great details I could imagine what the world she created looked like.

Also, I felt like I could visualize what all of the characters looked like.

Cinder was just a normal girl it seemed in the beginning who was thrown a tough life of being a step child to an evil stepmother, but this story is so much more than that.

Cinder really grows throughout the whole book she is given a lot of information and works on processing it as fast as she can.
I think the author did a great job making Cinder a realistic character.

Some of the decisions that Cinder made I was like ohh no, but honestly they match what I feel a younger main character would choice.

I can't wait to see where the story goes next.

I did have very mixed feelings about the doctor.

I feel like he was trying to help Cinder, but by not giving her all the information up front I felt like was aiding in her making bad decisions.

Since the doctor was giving Cinder pieces of information one at a time it really helped the story move along and kept my attention.
Another aspect of the book that I loved was all of the background information that the author included.

I enjoyed hearing about how the world that she created came to be.

I also liked to see the past and the present reconnecting by the author.

I felt completely connected with the world the author created and could understand what was going on and the potential for another disaster on the horizon.
I am not sure if there was anything in the book that I would change.

I loved how the author incorporated the Cinderella story in the background, but also created a whole different world and story.

The author did a great job separating her story into something different from Cinderella.
I highly recommend the audio version of this book.

I would listen to this while I was getting ready to sleep for the night and it was the perfect distraction from the day.

It also helped me get through cleaning the house one Saturday.

I just couldn't stop listening and wanted to know what was going to happen at the end of the book and how everyone was connected together.

I cannot wait to listen to the next book in this series.
..............................................................................
About the Author
One of my first spoken words was "story" (right along with "bath" and "cookie"), my favorite toy as an infant was a soft, squishable book, and I've wanted to be a writer since I first realized such a job existed.
When I was fourteen my best friend introduced me to anime and fanfiction—over the years I would complete over forty Sailor Moon fanfics under the penname Alicia Blade. Those so inclined can still find my first stories at fanfiction.net. Writing fanfic turned out to be awesome fun and brought me in contact with an amazing group of fanfiction readers and writers. As Alicia Blade, I also had a novelette, "The Phantom of Linkshire Manor," published in the gothic romance anthology Bound in Skin (CatsCurious Press, 2007).
When I was sixteen I worked at The Old Spaghetti Factory in Tacoma, Washington, affectionately termed "The Spag." (Random factoid: This is also the restaurant where my parents met some 25 years before.) I attended Pacific Lutheran University where I sorted mail that came to the dorm, carted tables and chairs around campus, and took writing classes, eventually earning a Bachelor's degree in Creative Writing and Children's Literature. Knowing I wanted a career in books, I would also go on to receive a Master's degree in Publishing from Pace University (which you can learn more about here). After graduation, I worked as an editor in Seattle for a while before becoming a freelance typesetter and proofreader.
Then, day of days, someone thought it would be a good idea to give me a book deal, so I became a full-time writer. CINDER is my first novel, though I have an adorable collection of unfinished ones lying around too.
I now live with my husband and our three cats (Calexandria Josephine, Stormus Enormous, and Blackland Rockwell III), who go in and out, in and out, about eight hundred times a day. My favorite non-bookish things include Reese's Peanut Butter Cups, re-watching episodes of Firefly, and playing all manners of dress-up.