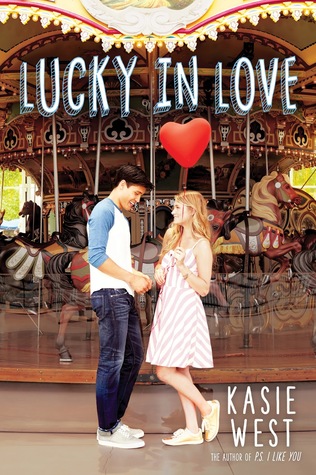 Lucky in Love by Kasie West
Genres: Young Adult Fiction, Romance

, Contemporary


Publication date:
July 25th 2017
Publisher:
Scholastic
Format: paper

back

, 337

pages
How I got it: I won a copy of this book from How Useful It Is
Buy it: Amazon | Barnes & Noble
My rating:

4

/5
Can't buy me love…
Maddie's not impulsive. She's all about hard work and planning ahead. But one night, on a whim, she buys a lottery ticket. And then, to her astonishment—
She wins!
In a flash, Maddie's life is unrecognizable. No more stressing about college scholarships. Suddenly, she's talking about renting a
yacht
. And being in the spotlight at school is fun…until rumors start flying, and random people ask her for loans. Now Maddie isn't sure
who
she can trust.
Except for Seth Nguyen, her funny, charming coworker at the local zoo. Seth doesn't seem aware of Maddie's big news. And, for some reason, she doesn't want to tell him. But what will happen if he learns her secret?
..............................................................................
I am back on a Kasie West fix. I love a good cute romance that just takes your mind off the day!
This book follows Maddie who is a senior struggling with a few family issues that are stressing her out including a lack of monetary funds for college. Maddie one day wins the lottery after buying a ticket on her 18th birthday! Seth is the cute boy that she works with from the zoo. We get to follow along on the journey from before the lottery to the happenings after one wins the lottery.
Seth is a great male lead for this book and seems mature for his age. We get to learn a lot about Seth through Maddie's eyes only so I got swoon worthy feelings while reading about him. Seth can relieve some of the stress from Maddie by just being himself and asking little questions, which leads him to seem understanding.
I enjoyed Maddie as a main character. The author did a great job digging into the family issues that where plaguing her. Since the book is told through Maddie's POV we get to see exactly how she wanted everything to be as well as what attempts she was going to make to fix the situations. I loved how as the book developed we got to see Maddie attempt to tackle the family issues and her ability to have more difficult conversations. My one Maddie issue would be that she is a little too trusting and you never want to see someone get taken advantage of in any sense.
Maddie also has two close friends when we start out the book. The three of them are always studying together and enjoy hanging out. I loved seeing a solid friendship in the book, there were a few ups and downs, but overall the friendship was well written and an enjoyable read.
My one complaint would be I wanted to see more out of the relationship between Maddie and her brother. The book had a great deal of information regarding Maddie's family and the relationships they have with one another. I felt like I didn't get a full resolve on the relationship with Maddie and her brother in the end. I would have loved a little bit more on them, but I also love summed up endings!
I would suggest this as a perfect vacation read or long weekend read. The book has a cute plot and ended up being a book I didn't want to put down. I enjoyed getting to know the characters while reading and wanted to see what was going to happen.
I won a copy of this book from How Useful It Is. Thank you so much for hosting the giveaway!!
..............................................................................
About the Author
I write YA. I eat Junior Mints. Sometimes I go crazy and do both at the same time. My novels are: PIVOT POINT and its sequel SPLIT SECOND. And my contemporary novels: THE DISTANCE BETWEEN US, ON THE FENCE, THE FILL-IN BOYFRIEND, PS I LIKE YOU, and BY YOUR SIDE. My agent is the talented and funny Michelle Wolfson.