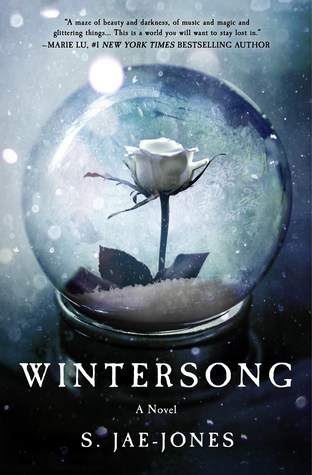 Wintersong by S. Jae-Jones
Genres: Fantasy, Young Adult
Publication date:
February 7th 2017
Publisher:
Thomas Dunne Books
Format: ebook,
436 pages
How I got it: The Fantastic Flying Book Club
Buy it: Amazon | Barnes & Noble
My rating:

3

/5
Beware the goblin men and the wares they sell.

All her life, nineteen-year-old Liesl has heard tales of the beautiful, mysterious Goblin King. He is the Lord of Mischief, the Ruler Underground, and the muse around which her music is composed. Yet, as Liesl helps shoulder the burden of running her family's inn, her dreams of composition and childish fancies about the Goblin King must be set aside in favor of more practical concerns.

But when her sister Käthe is taken by the goblins, Liesl journeys to their realm to rescue her sister and return her to the world above. The Goblin King agrees to let Käthe go—for a price. The life of a maiden must be given to the land, in accordance with the old laws. A life for a life, he says. Without sacrifice, nothing good can grow. Without death, there can be no rebirth. In exchange for her sister's freedom, Liesl offers her hand in marriage to the Goblin King. He accepts.

Down in the Underground, Liesl discovers that the Goblin King still inspires her—musically, physically, emotionally. Yet even as her talent blossoms, Liesl's life is slowly fading away, the price she paid for becoming the Goblin King's bride. As the two of them grow closer, they must learn just what it is they are each willing to sacrifice: her life, her music, or the end of the world.
..............................................................................
This book follows Liesel as she must venture into the realm of the Goblin King to save her sister Kathe who was taken by the Goblins. Liesel is protective of her family and feels full responsibility for losing her sister. Liesel needs to make sure that Kathe gets home safe no matter what. Liesel has always heard stories of the underground so she feels somewhat connected before she even ventures in to save her sister.
The author does an amazing job creating the world above and underground. I loved that we got to learn about the restraints of the underground as well as what everyone looked like. We get to see what Liesel is seeing through her eyes.
I enjoyed the romance in this book between Liesel and the Goblin King. It is somewhat slow burning, but they have known each other for years. I loved that we got flash backs into Liesel's previous meetings with the Goblin King even if she didn't fully realize what is going on. The author did a great job creating the relationship between Liesel and the Goblin King. As I was reading you can tell the issues that arise between the two of them, but you can also feel the chemistry coming through.
I loved that Liesel came into her own while taking on the role of Goblin King's wife. She got to focus on herself and learn what made Liesel, Liesel. I enjoyed learning how she evolved and what her true passions in life where. I felt we saw tremendous growth in Liesel throughout the book.
My major complaint for this book would be that it is slightly over descriptive. There were parts of the book I felt like skimming over it was just going to great into detail that I didn't really need to now all that information. Although the author does an amazing job creating the detailed world at some points I wanted the story to keep moving versus all the descriptive. I felt it slowed the pace down in the book and left me skipping sections.
I received a copy of this book from The Fantastic Flying Book Club in exchange for an honest review.
This does not affect my opinion of this book.
..............................................................................
About the Author
S. Jae-Jones, called JJ, is an artist, an adrenaline junkie, and the NYT bestselling author of
Wintersong
.
Born and raised in sunny Los Angeles, she lived in New York City for ten years before relocating down to Dixie, where she is comfortably growing fat on grits and barbecue. When not writing, she can be found rock-climbing, skydiving, taking photographs, drawing pictures, and dragging her dog on ridiculously long hikes.