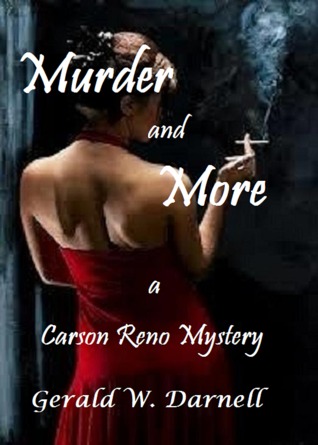 Murder and More
by
Gerald W. Darnell
Serie
s
Carson Reno Mystery Series Book # 14
Genres: Mystery, Fiction, Detective


Publication date: March 1st 2016
Publisher: cr Press
Format: e

book

, 221

pages
How I got it:
Gerald W. Darnell for an honest re

view
Buy it: Amazon | Barnes & Noble
My rating:

4

/5
Carson's feud with a local crime reporter continues, and then suddenly the husband of his client is brutally murdered - a husband he's been hired to investigate. Mysterious characters weave a web of blackmail and suspense, while leaving Carson with more clients than he can handle.

The Memphis police have warned Carson to back off, but an employee of a friend is missing from a murder scene and he's determined to find her and the killer.

Follow Carson to New Orleans, Humboldt, Memphis and Florida where he chases numerous suspects trying to track down a missing person and the killer he's been hired to find.
Enjoy this unusual adventure for Carson Reno, as he struggles to solve the case of 'Murder and More'.
..............................................................................
This book follows Carson who is a private detective at his own company. He has been hired by a women Ava to find some incriminating evidence against her husband so she can

divorce

him, apparently the first private detective following the husband came into this knowledge and now is blackmailing her for this information to

be released.
There are a lot of characters in the book, but they are easy to follow along with. The author does a great job giving a small tidbit about each of the characters when we first meet them so it is not overwhelming and you wouldn't have had to read the whole series to follow along. Also, each character presented doesn't

necessarily

pop back up in the book so it was easy to move on passed those encounters

.

The author also does an amazing job describing the scenery around Carson while he is out and about. It felt like while reading you were transported to the 1960's and seeing everything that Carson was seeing. I love how the author

brought the world to life.
Car

son was an interesting character to me, he

seemed very smart and didn't let the big things really

interrupt

his day. He seemed very confident in his work and just wanted everyone to be safe. He seemed like someone who I can see people confide in easily, but he would need to work through if they were being truthful. I also liked that he let Lydia join his team since she sort of got cut out of the deal. I can see how he gets his clients

through

just

one book.
Carson also seems

very intelligent to piece everything together as well as cautious making a very good detective.
I loved how in the ending the author did a great job summarizing the case. The author did a great job keeping the story moving, but I still had lingering

questions

on how

everything

was going to turn out and the author did a great job nicely summing everything up. At the end of the book I didn't have any questions left on who

was involved in the case.
This is a very quick read book that you don't really need to have read the entire series to keep up with. I would suggest this as a

nighttime

read it is the perfect book to take your mind off a busy day

and get lost in a new world.
I

r

eceived a copy of this book from

Gerald W. Darnell

for the purpose of

providing an

honest review. This does not affect my opinion of the book or the content of my review.
..............................................................................
About the Author