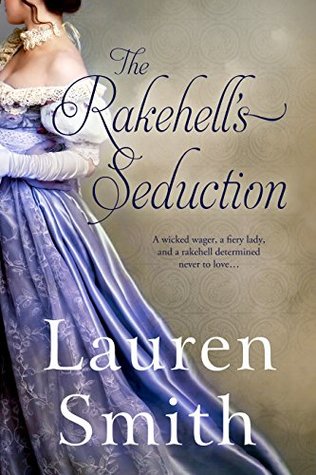 Both Ambrose and Alexandra want nothing to do with falling in love, but will a "gentleman's bet" cause the stakes to be higher than either bargained for? Find out in RAKEHELL'S SEDUCTION, book 2 in Lauren Smith's
Seduction series.
a Rafflecopter giveaway
HE'S MADE A DANGEROUS WAGER
Ambrose Worthing is no gentleman. He's a proud cold-hearted rake who's determined to stay a bachelor forever. He enjoys bedding a different woman every night without the risk of falling in love. When he hears about a wager over the seduction and ruination of the daughter of his father's best friend, he knows he must intervene. Committing himself to the bet, he agrees to seduce Lady Alexandra Rockford—for her own good. He never expected the lady in question to be a beautiful, fiery creature who has passions of her own that call to his guarded heart.
SHE'S VOWED NEVER TO FALL IN LOVE AGAIN
Alexandra Rockford has sworn off men, her heart still broken from the false promises of a childhood sweetheart who left her to marry an heiress. When she stumbles into Ambrose outside of a country ball, she knows the rake is trouble. His smile, his touch, his forbidden kiss are all too tempting but being with him would ruin her. Determined to enjoy herself without falling in love, Alex can't help but let her defenses down with the too charming rake. But when she discovers Ambrose is seducing her to win a bet, it will take everything Ambrose has to prove to her that he is worthy to love her.
This book is intended for mature audiences.
Alex lives in the country with her father and doesn't stray much into London due to a man who broke her heart when she was younger. She is not really actively out looking for a husband, but does still attend a few social events. Ambrose takes a bet to ruin Alex so he heads to the country to meet her. Ambrose is a known rake who has ruined women in the past, but what happens when Ambrose actually meets Alex and the sparks fly.
Alex is such a great character. She is very strong in her convictions and it is nice to see that her parents support her and making her own decisions. A lot of women during this time where pushed into marriages of opportunity for the families, but Alex was allowed the freedom of choose and it was something she didn't take lightly. Alex really thought through her decisions and tried to make the best of her situation.
Ambrose was my favorite character. Since the book is told through the point of view of both Ambrose and Alex we really get to learn a lot about him. He goes through some deep self evaluation in the book and it is great to read about. He is a very intelligent man and really thinks out situations that he gets himself into. I couldn't help, but fall in love with him while reading.
I think my favorite part of the book was the chemistry that Alex and Ambrose have. The author did a great job creating sparks right from the beginning and the banter the characters have is so fun to read. The chemistry does come on strong in the book and is great to read!
I loved how the author expanded upon the bet in the book and gave us a complete picture to the story. The ending of the book is amazing and I love how all the loose ends where tied up.
I enjoyed the historical setting of the book. The author did a great job keeping the entire story in the past. She really did a great job with all the details of the story to make you feel like you were in the country. The descriptions of the characters as well as setting were perfect to keep the story flowing as well as helping me to picture in my head what was going on.
I would suggest this as a night time read. It was very easy to pickup and put down the book while reading. Also, I found the story was very easy to follow along with. There were points when I wanted to know what was going to happen next, but it was nothing that couldn't wait till the next night.
I
received a copy of this book from Barclay Publicity for the purpose of providing a honest review of this book. This does not effect my opinion of this book or my review.
My Rating: 4/5
Amazon Best-Selling Author Lauren Smith is an attorney by day, author by night, who pens adventurous and edgy romance stories by the light of her smart phone flashlight app. She's a native Oklahoman who lives with her three pets: a feisty chinchilla, sophisticated cat and dapper little schnauzer. She's won multiple awards in several romance subgenres including being an Amazon.com Breakthrough Novel Award Quarter-Finalist and a Semi-Finalist for the Mary Wollstonecraft Shelley Award.