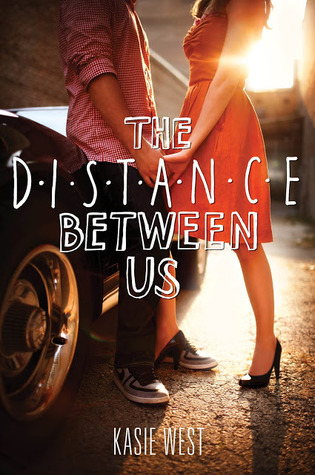 The Distance Between Us

by Kasie West
Genres: Young Adult Fiction, Romance, Contemporary
Publication date:
July 2nd 2013
Publisher:
HarperTeen


Format: paperback, 312 pages
How I got it: My public library
Buy it: Amazon | Barnes & Noble
My rating:

4

/5

Seventeen-year-old Caymen Meyers studies the rich like her own personal science experiment, and after years of observation she's pretty sure they're only good for one thing—spending money on useless stuff, like the porcelain dolls in her mother's shop.

So when Xander Spence walks into the store to pick up a doll for his grandmother, it only takes one glance for Caymen to figure out he's oozing rich. Despite his charming ways and that he's one of the first people who actually gets her, she's smart enough to know his interest won't last. Because if there's one thing she's learned from her mother's warnings, it's that the rich have a short attention span. But Xander keeps coming around, despite her best efforts to scare him off. And much to her dismay, she's beginning to enjoy his company.

She knows her mom can't find out—she wouldn't approve. She'd much rather Caymen hang out with the local rocker who hasn't been raised by money. But just when Xander's attention and loyalty are about to convince Caymen that being rich isn't a character flaw, she finds out that money is a much bigger part of their relationship than she'd ever realized. And that Xander's not the only one she should've been worried about.
..............................................................................
I am not sure why I waited so long to read a book by Kasie West. I have a feeling she is going to quickly moved up on my favorite author list!
This book follows Caymen who works and lives in her mother's doll shop. Caymen has only grown up knowing this lifestyle. The town she lives in has a large amount of very wealthy residents as well. Caymen has heard horror stories from her mother about the very wealthy residents including the story of her dad never seeing her and walking away. Caymen has very strong opinions of the wealthy residents since she sees them come into the doll shop. Xander appears to be just another rich kid when he walks in the door, but things aren't always what they seem.
The story is told through the eyes of Caymen only, which is great because we get to see a lot of the internal thoughts that she is thinking when the story is taking place. I wish we did get to see a little of Xander's thoughts as well.
I loved Caymen as a character. She was only a 17 year old girl who was taking on a lot of responsibilities at home that are way beyond what a teenager should have to deal with. Caymen was very mature for her age, but didn't really know what to do with her life in the future. She did want to grow up, but she didn't want to leave her mom behind. I loved the relationship that the author created between Caymen and her mother. I could see how strong the bond was and when stuff started to happen I saw Caymen really evaluate this relationship.
Xander was a whole different character. He was wise beyond his years. Xander might not have figured out exactly what he wanted to do with his life, but he was very capable of multitasking as well as making time for what was important. I just couldn't help but fall in love with Xander he really was just a perfect character. He tried hard to make Caymen fall for him and in the end you could really see all the effort he was putting forward and how much he cared for her.
The story is setup as a basic love story of boy meets girl, girl is not sure, boy and girl fall in love, but there is just so much more to the characters and the story that meets the eyes. I loved the storyline that the author created because towards the end I really didn't see the turn the story took. She took her time creating very complex relationships between several of the characters that made me just want to keep reading. During the entire book I just felt fully engrossed with the characters and the story I couldn't put it down.
I guess my one complaint at the end of the book was I just wanted more. I felt incomplete when the story was over. I was totally sucked into Caymen and her life and wanted to know what was going to happen next. I could totally use a squeal for this book I have a lot of lingering questions
.
I would say this is a great vacation read. I ended up reading this book in one day I couldn't get enough. The story flew by and was a quick easy take your mind off the day read!
..............................................................................
About the Author
I write YA. I eat Junior Mints. Sometimes I go crazy and do both at the same time. My novels are: PIVOT POINT and its sequel SPLIT SECOND. And my contemporary novels: THE DISTANCE BETWEEN US, ON THE FENCE, THE FILL-IN BOYFRIEND, PS I LIKE YOU, and BY YOUR SIDE. My agent is the talented and funny Michelle Wolfson.