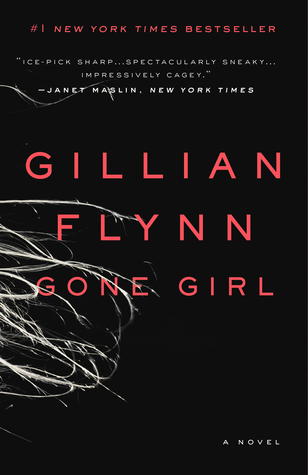 Gone Girl by Gillian Flynn
Genres: Fiction, Mystery
Publication date:
April 22nd 2014
Publisher:
Broadway Books


Format: paperback, 415

pages & audiobook
How I got it: I had a copy and listened to the audio from my library
Buy it:

Amazon

|

Barnes & Noble


My rating:

3

/5



On a warm summer morning in North Carthage, Missouri, it is Nick and Amy Dunne's fifth wedding anniversary. Presents are being wrapped and reservations are being made when Nick's clever and beautiful wife disappears. Husband-of-the-Year Nick isn't doing himself any favors with cringe-worthy daydreams about the slope and shape of his wife's head, but passages from Amy's diary reveal the alpha-girl perfectionist could have put anyone dangerously on edge

.

Under mounting pressure from the police and the media—as well as Amy's fiercely doting parents—the town golden boy parades an endless series of lies, deceits, and inappropriate behavior. Nick is oddly evasive, and he's definitely bitter—but is he really a killer?
..............................................................................
I finally listened to Gone Girl. I just couldn't get into the book for some reason I kept reading a little bit here and there, but just couldn't sit down and finish it. I did watch the movie before I read the book so I don't think that helped me since I knew what was going to happen and just couldn't get motivated to read it.
This book follows Nick and Amy who have been married for Five years when Amy goes missing. The book is told from two different perspectives. We jump right into the action with Amy being missing and trying to piece together what happened. We get chapters that go back and forth from Amy to Nick. Nick was a writer at a magazine who got laid off and Amy was also working on writing quizzes. Once they got laid off Nick's mom got ill and they moved back home. The story unfolds slowly and the author takes her time building out the mystery.
We get an insider look at Nick's life and where he thinks we are and then we get a look at Amy's life and see where she thinks they are. The author does a great job creating the two characters who develop into very important people in this book. Amy and Nick get their own personalities and we can see how they ended up together.
This book has a complex plot that I feel is easy to follow along with. There were a few items I think came out of left field, but nothing to crazy that made me stop and question what was going on.
My issue with the book and the reason for a lower rating was I just couldn't get into the story. The audio helped tremendously with this book, but it just didn't do it for me. When I was done reading I felt like I crossed another book off the list versus loving every minute of the book. The author did a great job building the entire story and creating all the dynamics, but the length killed it for me. The story was longer and the author put in a lot of details, which I felt could have been left out. At points, I felt like the author was just going on to keep the length up. In a mystery, I want total suspense. Also, the ending made me feel like it was dragging on just to keep going. I felt it could have been summed up a lot faster.
I would highly suggest the audio version of this book.
The narrators did a great job bringing this book to life in the audio version.
I felt I could easily imagine exactly what was going on in the book through the narration.
..............................................................................
Gillian Flynn is an American author and television critic for Entertainment Weekly. She has so far written three novels,
Sharp Objects
, for which she won the 2007 Ian Fleming Steel Dagger for the best thriller;
Dark Places
; and her best-selling third novel
Gone Girl
.
Her book has received wide praise, including from authors such as Stephen King. The dark plot revolves around a serial killer in a Missouri town, and the reporter who has returned from Chicago to cover the event. Themes include dysfunctional families,violence and self-harm.
In 2007 the novel was shortlisted for the Mystery Writers of America Edgar for Best First Novel by an American Writer, Crime Writers' Association Duncan Lawrie, CWA New Blood and Ian Fleming Steel Daggers, winning in the last two categories.
Flynn, who lives in Chicago, grew up in Kansas City, Missouri. She graduated at the University of Kansas, and qualified for a Master's degree from Northwestern University.