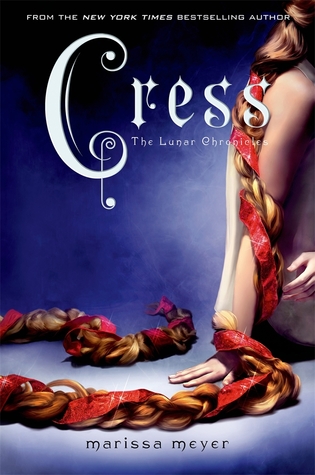 Cress - Marissa Meyer
Serie
s
The Lunar Chronicles #3
Genres: Young Adult Fiction, Fantasy
Publication date:
Feb 08, 2014
Publisher: Macmillan Audio
Format:
audio
15 hours, 41 minutes
How I got it:

Overdrive from my public library


Buy it:

Amazon

|

Barnes & Noble


My rating:

4

/5



In this third book in the Lunar Chronicles, Cinder and Captain Thorne are fugitives on the run, now with Scarlet and Wolf in tow. Together, they're plotting to overthrow Queen Levana and her army.





Their best hope lies with Cress, a girl imprisoned on a satellite since childhood who's only ever had her netscreens as company. All that screen time has made Cress an excellent hacker. Unfortunately, she's just received orders from Levana to track down Cinder and her handsome accomplice.





When a daring rescue of Cress goes awry, the group is separated. Cress finally has her freedom, but it comes at a higher price. Meanwhile, Queen Levana will let nothing prevent her marriage to Emperor Kai. Cress, Scarlet, and Cinder may not have signed up to save the world, but they may be the only hope the world has.
..............................................................................
This is the third book in The Lunar Chronicles series by Marissa Meyer.

The story continues to follow along with Cinder who is trying to figure out how to save the world and Kai from marrying Queen Levana. The cast of characters that we have met in the previous two books are all present again and we get introduced to a new character Cress.
Cress is a girl form Luna who happens to be a shell. She lives on a satellite and helps to conceal the Lunar ships from Earth. She has very advanced computer skills and uses them to help Luna since that is where she is from. Cress is very fascinated by Earth. Cress really grows on me during the book. At first I am not sure what she will be able to bring to the group since she is presented a little childish, but she really comes into her own during the book. Cress might not have had a lot of interaction with other people, but she is really learning quickly.
I enjoyed listening more to Cinder in this story. I feel like she has grown so much during the first three books and she is almost an entirely different person. Cinder is really getting better at thinking on her feet and developing plans. She is embracing her current situation and working on fixing it. I feel like she is working towards growing into a leader that she didn't even know was there.
I felt a little disconnected from Scarlet since she is more MIA during this story. I feel like she is setting up to be a bigger character in the next book, but I did feel for Wolf losing his Alpha in the book. It was painful to listen to his suffering and Cinder really helped to show how bad he was suffering in the book.
Captain Thorne might have been my favorite character in this book. I completely agree with Cress's description of him that he doesn't realize when he is getting in trouble that it might be he is doing something for the greater good. The comedy that Captain Thorne adds to the story is great. I feel like he really shinned in this book and I can't wait to see what happens to him in the next book!! Also, I can't believe there is only 1 book left in the series I can't wait to listen to the conclusion.
The author did a great job with continuing on the story. She stayed very true to her writing style and the book was very fast paced. There was a few side stories leading up to the big event, but the side stories really kept the book moving along and kept my undivided attention.
I am not sure why I can't give this book a 5 for the series. I did enjoy listening to the audio, but there was something I just can't put my finger on that didn't feel the same as the other two books. Maybe it could have been the book dealt with a lot of planning for an event and once it occurred it felt rushed to me.
I would suggest this as a nighttime read or listen.

The book is easy to follow along with as well as has natural stopping points. I enjoyed listening to this story.

The audio version is great the narrators did a great job with telling the story.
..............................................................................
About the Author
One of my first spoken words was "story" (right along with "bath" and "cookie"), my favorite toy as an infant was a soft, squishable book, and I've wanted to be a writer since I first realized such a job existed.
When I was fourteen my best friend introduced me to anime and fanfiction—over the years I would complete over forty Sailor Moon fanfics under the penname Alicia Blade. Those so inclined can still find my first stories at fanfiction.net. Writing fanfic turned out to be awesome fun and brought me in contact with an amazing group of fanfiction readers and writers. As Alicia Blade, I also had a novelette, "The Phantom of Linkshire Manor," published in the gothic romance anthology Bound in Skin (CatsCurious Press, 2007).
When I was sixteen I worked at The Old Spaghetti Factory in Tacoma, Washington, affectionately termed "The Spag." (Random factoid: This is also the restaurant where my parents met some 25 years before.) I attended Pacific Lutheran University where I sorted mail that came to the dorm, carted tables and chairs around campus, and took writing classes, eventually earning a Bachelor's degree in Creative Writing and Children's Literature. Knowing I wanted a career in books, I would also go on to receive a Master's degree in Publishing from Pace University (which you can learn more about here). After graduation, I worked as an editor in Seattle for a while before becoming a freelance typesetter and proofreader.
Then, day of days, someone thought it would be a good idea to give me a book deal, so I became a full-time writer. CINDER is my first novel, though I have an adorable collection of unfinished ones lying around too.
I now live with my husband and our three cats (Calexandria Josephine, Stormus Enormous, and Blackland Rockwell III), who go in and out, in and out, about eight hundred times a day. My favorite non-bookish things include Reese's Peanut Butter Cups, re-watching episodes of Firefly, and playing all manners of dress-up.