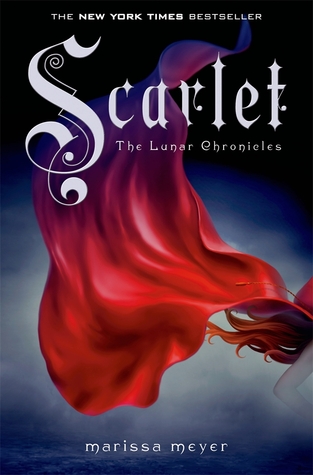 Scarlet

by Marissa Meyer
Serie
s
The Lunar Chronicles #2
Genres: Young Adult Fiction, Fantasy
Publication date: Feb 05, 2013
Publisher: Macmillan Audio
Format:

audio
11 hours, 19 minutes
How I got it:

Overdrive from my public library


Buy it: Amazon | Barnes & Noble
My rating:

5

/5



Cinder, the cyborg mechanic, returns in the second thrilling installment of the bestselling Lunar Chronicles. She's trying to break out of prison—even though if she succeeds, she'll be the Commonwealth's most wanted fugitive.

Halfway around the world, Scarlet Benoit's grandmother is missing. It turns out there are many things Scarlet doesn't know about her grandmother or the grave danger she has lived in her whole life. When Scarlet encounters Wolf, a street fighter who may have information as to her grandmother's whereabouts, she is loath to trust this stranger, but is inexplicably drawn to him, and he to her. As Scarlet and Wolf unravel one mystery, they encounter another when they meet Cinder. Now, all of them must stay one step ahead of the vicious Lunar Queen Levana, who will do anything for the handsome Prince Kai to become her husband, her king, her prisoner.
..............................................................................
This is the second book in The Lunar Chronicles series by Marissa Meyer.

I got the audio of this book from my library so I could continue listening to this series.

I am hoping to get approved for the next book soon I can't wait to see where this series goes!!
This book follows three smaller stories at the same time that are all still tied together.

We get to meet a new character Scarlet whose grandmother is missing, we continue on with Cinder who has escaped from prison and we get to hear from Kai who is emperor.
Scarlet is an interesting new character that the author created.

She comes off as a very strong individual.

She has been raised by her grandmother and is very loyal to her.

Scarlet's main goal is to find her grandmother and bring her home.

Scarlet then has a run in with Wolf who happens to be part of the organization that took Scarlet's grandmother.

They go on a journey to get her grandmother back.

Scarlet is very independent and strong willed.

During the entire book I just wanted her to be reunited with her grandmother.

Scarlet also has a new set of knowledge of how society works that is introduce to the reader/listener.
Cinder has escaped prison with another prisoner and is now hiding from the royal army as well as trying to piece together her past.

Cinder is learning about her Luna gifts during this book as well as trying to find her place in society.

Cinder has a lot of weight put on her shoulders from the first book and we really get to see what toll that is taking on her.

We do get a pretty big revelation about Cinder's past during this book and it really helped me to put everything together.
Kai has become emperor in bad circumstances and he is also thinking that everything is his fault.

Kai's just trying to keep the people he is responsible for safe and is trying everything he possibly can to do that.

Kai has shouldered a lot more responsibility in this book and has really matured.

Kai's section might not be large in this book, but we can see how conflicted he is and that the world is still progressing.
I really enjoyed the continued storyline of this book.

You would have definitely needed to read Cinder first to know what was going on in this book since the stories are so intertwined.

The author did a great job adding in a new character as well as progressing the story along.

The pace of the story was great to listen to, it moved along very steadily and I couldn't wait to hear what was going to happen next.
I would suggest this as a nighttime read or listen.

The book is easy to follow along with as well as has natural stopping points. I enjoyed listening to this story.

The audio version is great the narrators did a great job with telling the story.
..............................................................................
About the Author
One of my first spoken words was "story" (right along with "bath" and "cookie"), my favorite toy as an infant was a soft, squishable book, and I've wanted to be a writer since I first realized such a job existed.
When I was fourteen my best friend introduced me to anime and fanfiction—over the years I would complete over forty Sailor Moon fanfics under the penname Alicia Blade. Those so inclined can still find my first stories at fanfiction.net. Writing fanfic turned out to be awesome fun and brought me in contact with an amazing group of fanfiction readers and writers. As Alicia Blade, I also had a novelette, "The Phantom of Linkshire Manor," published in the gothic romance anthology Bound in Skin (CatsCurious Press, 2007).
When I was sixteen I worked at The Old Spaghetti Factory in Tacoma, Washington, affectionately termed "The Spag." (Random factoid: This is also the restaurant where my parents met some 25 years before.) I attended Pacific Lutheran University where I sorted mail that came to the dorm, carted tables and chairs around campus, and took writing classes, eventually earning a Bachelor's degree in Creative Writing and Children's Literature. Knowing I wanted a career in books, I would also go on to receive a Master's degree in Publishing from Pace University (which you can learn more about here). After graduation, I worked as an editor in Seattle for a while before becoming a freelance typesetter and proofreader.
Then, day of days, someone thought it would be a good idea to give me a book deal, so I became a full-time writer. CINDER is my first novel, though I have an adorable collection of unfinished ones lying around too.
I now live with my husband and our three cats (Calexandria Josephine, Stormus Enormous, and Blackland Rockwell III), who go in and out, in and out, about eight hundred times a day. My favorite non-bookish things include Reese's Peanut Butter Cups, re-watching episodes of Firefly, and playing all manners of dress-up.