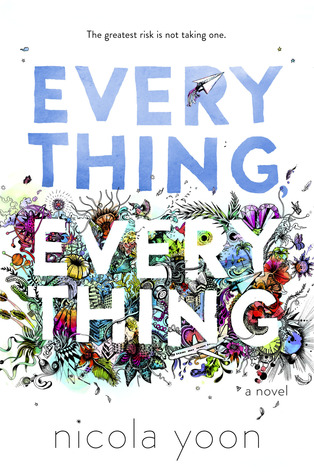 Everything, Everything

by Nicola Yoon
Genres: Young Adult Fiction, Romance, Contemporary
Publication date: Sep 01, 2015
Publisher: Penguin Random House Audio Publishing Group
Format:

audiobook

,
6 hours, 44 minutes
How I got it:

My local library


Buy it: Amazon | Barnes & Noble
My rating: 4/5
My disease is as rare as it is famous. Basically, I'm allergic to the world. I don't leave my house, have not left my house in seventeen years. The only people I ever see are my mom and my nurse, Carla.

But then one day, a moving truck arrives next door. I look out my window, and I see him. He's tall, lean and wearing all black—black T-shirt, black jeans, black sneakers, and a black knit cap that covers his hair completely. He catches me looking and stares at me. I stare right back. His name is Olly.

Maybe we can't predict the future, but we can predict some things. For example, I am certainly going to fall in love with Olly. It's almost certainly going to be a disaster.
..............................................................................
After finishing The Sun is Also a Star I wanted to listen to more books by Nicola Yoon. I liked the theme of the first book I listened to as well as the storyline.
Everything, Everything follows Madeline Whittier who is a young girl who is allergic to the world. Madeline's mother has kept her in her house in an airtight chamber after they discovered that Madeline has this rare disease that different triggers could kill her. The story begins with Madeline describing her life and then we get introduced to the boy next door Oliver. Oliver just wants to meet Madeline, but gets shot down, eventually they begin communicating via the internet and the story expands.
The story is told through the eyes of Madeline based on her experiences in life. The author stays very true to character during the entire book. Madeline has lived a very sheltered life due to her illness and doesn't know anything different. I love how the author integrates Madeline into the world starting with her meeting a boy online. Madeline is a very complex character because she has a lot of emotions going on in her head and the author does a great job exploring these emotions.
My favorite character in the book though was Carla. Carla is Madeline's nurse during the day. Carla has a daughter around Madeline's age and lets her daughter get away with more than she should. I love how Carla has such a strong bond with Madeline and that she really is looking out for her the entire time. Carla is extremely perceptive and just wants what is right for Madeline. The author did a great job creating a character who felt so real tossed in the mix of a difficult situation.
I love the storyline that the author created. They story felt very real and touching. I didn't know much about this disease and the author did a great job explaining what would happen. I liked how the story expanded to, we got enough background and then the action began. I liked how the relationship progressed between Madeline and Oliver it didn't feel unnatural due to Madeline's illness.
My one complaint with the whole book was probably the ending. I felt like what happened could have been summed up a little better and I had lingering questions about what happened to all of the characters in the book.
I would suggest this as a weekend listen or read. The story moves along nicely and is easy to follow. I wanted to listen to this book for longer time periods so I would suggest to read it over the weekend when you have more time.
..............................................................................
About the Author