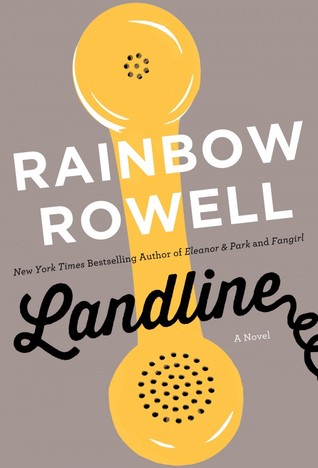 Landline

by
Rainbow Rowell
Genres: Fiction, Romance, Contemporary
Publication date: Jul 12, 2014
Publisher: Macmillan Audio
Format:

Audiobook -

9 hours, 3 minutes
How I got it: My public library
Buy it: Amazon | Barnes & Noble
My rating:

4

/5
Georgie McCool knows her marriage is in trouble; it has been in trouble for a long time. She still loves her husband, Neal, and Neal still loves her, deeply — but that almost seems beside the point now.

Maybe that was always beside the point.

Two days before they're supposed to visit Neal's family in Omaha for Christmas, Georgie tells Neal that she can't go. She's a TV writer, and something's come up on her show; she has to stay in Los Angeles. She knows that Neal will be upset with her — Neal is always a little upset with Georgie — but she doesn't expect him to pack up the kids and go home without her.

When her husband and the kids leave for the airport, Georgie wonders if she's finally done it. If she's ruined everything.

That night, Georgie discovers a way to communicate with Neal in the past. It's not time travel, not exactly, but she feels like she's been given an opportunity to fix her marriage before it starts...

Is that what she's supposed to do?

Or would Georgie and Neal be better off if their marriage never happened?
..............................................................................
I just can't help myself with these Rainbow Rowell audiobooks.

I need to keep listening to Rainbow Rowell books now at work they make the day move fast!!
Landline follows Georgie McCool (Love the name) and her husband Neal as they are going through a rough patch in their marriage.

Georgie is a TV writer who may have just landed her next big break by getting her own show with her best friend Seth, the one catch is they need to make the presentation right after Christmas and they need to work all over Christmas break. Neal has already made plans to go home to Omaha for Christmas to see his mother with his two daughters.

Neal leaves before Christmas and Georgie is a mess, she can't concentrate at work or get in touch with Neal, until she uses her childhood phone and is able to talk to Neal in the past.
First the book is completely told through Georgie's eyes which is great.

Georgie really takes the time to evaluate her relationship with Neal in the past and present.

I liked her evaluation of the entire situation and also the key events that she replays for us.

I felt like I really got to see what type of relationship that Georgie and Neal had.

I also loved how we got to be in Georgie's head with her.

I felt really connected to Georgie and I was rooting for her to make this relationship work.
My second favorite character is Georgie's sister Heather.

I feel like she is so young and trying to figure out her life, but she really helps guide Georgie along in a strange way.

I know that Georgie and Heather might not seem to close as sister's because of the age gap, but that might be misleading.

Their relationship has only grown stronger throughout the book.

I enjoy reading about family dynamics that might not be written about often.
The author did a great job developing all of the relationships in between the characters and Georgie.

I felt like as I was listening I could feel how Georgie felt towards the different characters through her interactions.

Also, we got to see how much had changed in Georgie's life through the years.

The character development the author did was amazing and made this a very enjoyable listen.
My one issue was really the idea of the magic phone.

It just seems too unbelievable and makes it hard for me to grasp onto.

I feel like it is even more challenging because Georgie makes it out to be like she is completely crazy so why as a reader would I believe this crazy idea.

Also, I felt more like Georgie was not so much talking to Neal on the phone either, but having flash backs to her relationship in the past to see how she got to where she was today.
I would suggest this as a great nighttime read/listen.

The book was easy to follow along with and also gave you something to think about.

I felt like there were natural stopping points where I just need to digest what I heard.
..............................................................................
About the Author