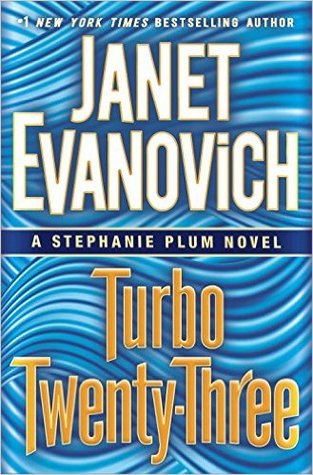 T

urbo Twenty-Three
by Janet Evanovich
Serie
s
Stephanie Pl

um #23
Genres: Fiction, Mystery
Publication date:
November 15th 2016
Publisher:
Bantam

Format:

hardcover

,

288

pages
How I got it:

Library


Buy it: Amazon | Barnes & Noble
My rating:

2

/5



In the heart of Trenton, N.J., a killer is out to make sure someone gets his just desserts.

Larry Virgil skipped out on his latest court date after he was arrested for hijacking an eighteen-wheeler full of premium bourbon. Fortunately for bounty hunter Stephanie Plum, Larry is just stupid enough to attempt almost the exact same crime again. Only this time he flees the scene, leaving behind a freezer truck loaded with Bogart ice cream and a dead body—frozen solid and covered in chocolate and chopped pecans.

As fate would have it, Stephanie's mentor and occasional employer, Ranger, needs her to go undercover at the Bogart factory to find out who's putting their employees on ice and sabotaging the business. It's going to be hard for Stephanie to keep her hands off all that ice cream, and even harder for her to keep her hands off Ranger. It's also going to be hard to explain to Trenton's hottest cop, Joe Morelli, why she is spending late nights with Ranger, late nights with Lula and Randy Briggs—who are naked and afraid—and late nights keeping tabs on Grandma Mazur and her new fella. Stephanie Plum has a lot on her plate, but for a girl who claims to have "virtually no marketable skills," these are the kinds of sweet assignments she does best.
..............................................................................
This was a very hard review for me. I love Janet Evanovich books and have enjoyed most of the Stephanie Plum series, but this book I just couldn't get into.

It felt like it was lacking what previous books in the series had.

I felt like the comedy that comes through in Janet's writing was almost completely lacking from this book.
The story follows Stephanie who is a bounty hunter for Vinnie.

She works some cases with Lula who also works for the bond office.

Stephanie sometimes moonlights for Ranger who owns a security company.

This book follows Stephanie mostly moonlighting for Ranger while working security at an ice cream plant in town that is having some unexplained murders.

Stephanie wants to solve the murder and figure out what happened as per her usual mo.
First, the comedy as I mentioned in this book I felt was completely missing.

The story was ok it moved along and kept pace with her normal writing.

I feel though most of the stories are just ok, but the comedy makes it worth reading.

The comedy takes her books to the next level and makes it a story you can read and take your mind off of everything.

I am not sure if the comedy was to come in with Lula trying to make a reality TV show, but if it was it was completely lost on me.
My second major issue is typically Stephanie can figure stuff out MUCH faster than this book presents.

I kind of felt like Stephanie wasn't really trying to solve the murder or even do her job as a bounty hunter.

I felt like it didn't even feel like Stephanie was herself in this book.
Again we are still in a completed standstill with Stephanie, Morelli, and Ranger.

I honestly don't think we will ever get an answer nor will any of these relationships go forward.

I thought we were getting closer in the last book, but then this one just reversed that in my mind.
One part of the book that I did love was that Grandma had a boyfriend.

I loved that Stephanie's dad was even getting excited during the book.

I don't think we have ever heard him talk that much in any of the books and I thoroughly enjoyed it! I love when I have read about a character for so long and they do something out of character that makes you like them even more!
I would suggest this as a nighttime read.

It was very easy to keep pace with the book and follow along with the story.
..............................................................................
About the Author