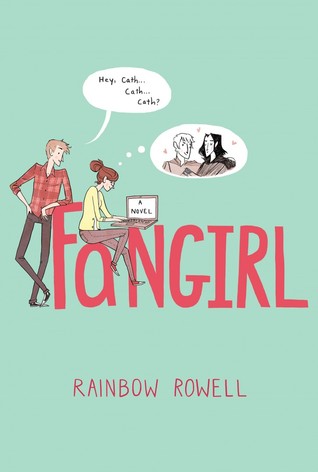 Fangirl

by
Rainbow Rowell
Genres: Young Adult Fiction, Romance
Publication date: September 10th 2013
Publisher: Penguin Random House Audio Publishing Group
Format:
Audiobook -
12 hours, 49 minutes
How I got it: My public library
Buy it: Amazon | Barnes & Noble
My rating:

5

/5



A coming-of-age tale of fan fiction, family and first love.

Cath is a Simon Snow fan.

Okay, the whole world is a Simon Snow fan...

But for Cath, being a fan is her life—and she's really good at it. She and her twin sister, Wren, ensconced themselves in the Simon Snow series when they were just kids; it's what got them through their mother leaving.

Reading. Rereading. Hanging out in Simon Snow forums, writing Simon Snow fan fiction, dressing up like the characters for every movie premiere.

Cath's sister has mostly grown away from fandom, but Cath can't let go. She doesn't want to.

Now that they're going to college, Wren has told Cath she doesn't want to be roommates. Cath is on her own, completely outside of her comfort zone. She's got a surly roommate with a charming, always-around boyfriend, a fiction-writing professor who thinks fan fiction is the end of the civilized world, a handsome classmate who only wants to talk about words... And she can't stop worrying about her dad, who's loving and fragile and has never really been alone.

For Cath, the question is: Can she do this?

Can she make it without Wren holding her hand? Is she ready to start living her own life? Writing her own stories?

And does she even want to move on if it means leaving Simon Snow behind?
..............................................................................
This was my second audiobook I was able to complete and I loved it!! I am

definitely

a fan of Rainbow Rowell and can't wait to read

or listen to her other books!!
This book follows Cath as she is entering college as a freshman. Cath is a huge Simon Snow fan who writes fan-fiction based on the Simon Snow books. Cath and her twin sister Wren used to write

together

, but when they moved to the same college Wren creates a whole new life without

Cath

. Cath isn't to sure of this whole college experience and she is very

apprehensive.
I loved the narrator for Cath she was perfect. I felt like the narrator matched exactly how I felt like Cath would sound. She did an amazing job with the audio and I would highly recommend lis

tening to this book.
I loved Cath as a character I felt like she went through a lot during her life and also her freshman year and she was just working on a way to survive. The a

uthor did a great job showing all of the growth that Cath went through during the year.

I felt like it was easy to connect with Cath because we got a lot of background information about her up front and then we listened on to get more details. Cath in the beginning of the book seemed very naive, but during the book I felt like maybe

my first impression of her wasn't right.

We get a very good look at Cath's family dynamic and I feel like that

shed

a lot of light from me on what was going on with her and her sister.
Levi is my second favorite character I sort of can't believe he is real almost he is too perfect. The author did a great job creating a gentleman out of him because honestly that is something that is very important in a man these days. I could not but grow to love Levi while listening to the audio. In the beginning I wasn't a 100% sold on him, but as I listened on he

completed

the book.
My only two issues with the audio book was first the Simon Snow was a little bit harder to follow along with. At first I wasn't sure if they were really key details so I listened to the short bits over, but I eventually got used to it and was easier to follow along when the other narrator

read the Simon Snow sections

. My second complaint, which was the same as my first Rainbow Rowell book I just wanted more I didn't want the book to end. I wasn't ready for the book to end, although it has a very natural ending I could have kept listening for hour

s.
I would suggest this as a great book to read

or listen to

at any time. I felt like in the audio there was very natural stopping points so it would be easy to listen to at night, but I

marathoned

the audio at work since we were a tad

slower

and just couldn't stop listening to it, so it would also be great to read/listen

to over the weekend.
..............................................................................
About the Author