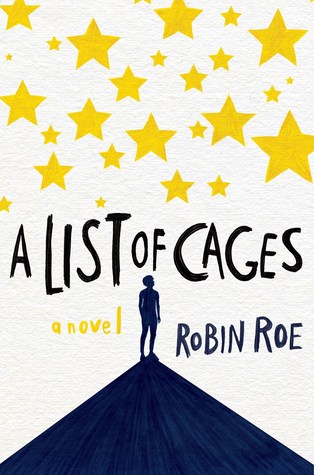 A List of Cages by Robin Roe
Genres: Young Adult Fiction, Contemporary
Publication date:
January 10, 2017
Publisher:
Disney-Hyperion
Format: hardcover 320

pages
How I got it: My public library
Buy it: Amazon | Barnes & Noble
My rating:

5

/5

When Adam Blake lands the best elective ever in his senior year, serving as an aide to the school psychologist, he thinks he's got it made. Sure, it means a lot of sitting around, which isn't easy for a guy with ADHD, but he can't complain, since he gets to spend the period texting all his friends. Then the doctor asks him to track down the troubled freshman who keeps dodging her, and Adam discovers that the boy is Julian—the foster brother he hasn't seen in five years.
Adam is ecstatic to be reunited. At first, Julian seems like the boy he once knew. He's still kindhearted. He still writes stories and loves picture books meant for little kids. But as they spend more time together, Adam realizes that Julian is keeping secrets, like where he hides during the middle of the day, and what's really going on inside his house. Adam is determined to help him, but his involvement could cost both boys their lives…
..............................................................................
This is by far my favorite book of the year so far. I had a hard time writing this review because the book left me with so many emotions in the end. I am keeping this review short, but I think everyone should consider reading this book.
This book follows Adam who seems to be a relatively popular Senior boy. Adam must help the school psychologist once a day as a school elective. During this time Adam gets assigned to help Julian who happened to be a foster brother of Adam's at one point. Adam tries to bond with Julian as he has become almost mute. It takes time, but the bond begins to develop again between Adam and Julian.
Adam grows immensely during this book. The transition from the beginning of the book to the end is almost unrecognizable. So much happens in a short time and decisions need to be made, which leads me to love Adam's strength that comes through during this book. It is hard to be a teenaged on the verge of adulthood and to know exactly what to do when something horrible happens.
Julian is a very complex character that the author does a great job developing. I loved how we got a look into Julian's thoughts during the book it helped me to be able to see what he was going through during this life.
The author does an amazing job with this story. There are a lot of tough issues that we come across in the book and the author keeps the emotions and actions in check, in my opinion, based on how I would feel someone younger would act. The author keeps this book written in the young adult voice throughout the book and I feel that the actions and reactions seem natural and emotion based.
This book tugged hard at my emotions and made me make sure to remember to question things that are going on around you, you just never know.
I would suggest this as a weekend read. This book brought up a lot of emotions and I had a very hard time putting it down. I just wanted to know what was going to happen and more on what previously happened to the characters.
..............................................................................
About the Author
Robin Roe is the author of A LIST OF CAGES, which has received starred reviews from Booklist, Kirkus, School Library Journal, Shelf Awareness, and Publishers Weekly. She has a bachelor's degree from Cornell University and a master's from Harvard. She counseled adolescents in Boston before she moved to Dallas to run a mentoring program for at-risk teens.