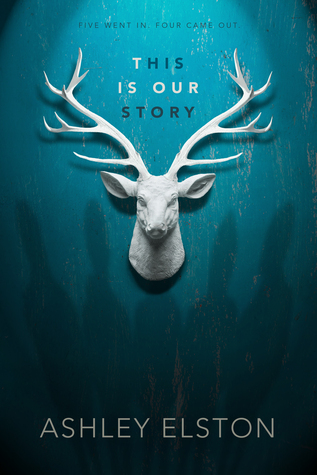 This is Our Story by Ashley Elston
Genres: Young Adult Fiction, Mystery
Publication date:
November 15, 2016
Publisher:
Disney-Hyperion


Format: hard copy, 320

pages
How I got it: My public library
Buy it: Amazon | Barnes & Noble
My rating:

4

/5
Five went in. Four came out.

No one knows what happened that morning at River Point. Five boys went hunting. Four came back. The boys won't say who fired the shot that killed their friend; the evidence shows it could have been any one of them.

Kate Marino's senior year internship at the district attorney's office isn't exactly glamorous—more like an excuse to leave school early that looks good on college applications. Then the DA hands her boss, Mr. Stone, the biggest case her small town of Belle Terre has ever seen. The River Point Boys are all anyone can talk about. Despite their damning toxicology reports the morning of the accident, the DA wants the boys' case swept under the rug. He owes his political office to their powerful families.

Kate won't let that happen. Digging up secrets without revealing her own is a dangerous line to walk; Kate has her own reasons for seeking justice for Grant. As she investigates with Stone, the aging prosecutor relying on Kate to see and hear what he cannot, she realizes that nothing about the case—or the boys—is what it seems. Grant wasn't who she thought he was, and neither is Stone's prime suspect. As Kate gets dangerously close to the truth, it becomes clear that the early morning accident might not have been an accident at all—and if Kate doesn't uncover the true killer, more than one life could be on the line…including her own.
..............................................................................
This story follows Kate as she is in her Senior year of high school and interning for the district attorney. A short time ago five boys went into the woods and only four came out of the woods. The major issue is that no one is speaking so they aren't saying who shot the one boy. The boys are from very affluent families so they are also calling in all there favors to make sure this doesn't get prosecuted. Kate believes that the responsible party should be brought to justice. Kate ends up becoming way to involved in the investigation and gets herself in a lot of trouble throughout the book.
I enjoyed reading this story. The author did a great job throwing in some curve balls that I did not see coming and I think added perfectly into the story. The story kept me on my toes at most points. Towards the end I felt like I knew how it was going to end so it could have been a little more of a surprise ending for me, but overall, I enjoyed the story.
The pacing of the book was perfect for me. In between the chapters we got short snippets from the killer and it would leave you wanting more and asking more questions. I feel like we found out the right information at the right time to keep the story moving and me wanting more. The killer snippets made me keep questioning who could have done this.
Kate was an easy character to like. She had morals that she didn't want to compromise and she thought that she was texting with the dead boy right before he died. Kate wanted to see justice be severed no matter what the length. Kate helps the district attorney to prosecute the case by studying emotions of the boys in the videos. Kate then begins her own investigation and watching the boys closely to find one that will crack. Kate gets in way over her head during the book.
I would suggest this as a weekend read. There is a lot going on in this book with a lot of action and I just couldn't put it down at some points. I wanted to keep reading and figure out what happened in the woods and if someone would get prosecuted. This book gave me exactly what I wanted in the end.
..............................................................................
About the Author
Ashley Elston lives is North Louisiana with her husband and three sons. She worked as a wedding and portrait photographer for ten years until she decided to pursue writing full time. Ashley is also a certified landscape horticulturist and loves digging in the dirt. Her debut novel, THE RULES FOR DISAPPEARING, was published by Disney Hyperion in 2013 and the sequel, THE RULES FOR BREAKING, in 2014. Her latest novel, THIS IS OUR STORY, will be published on November 15, 2016.