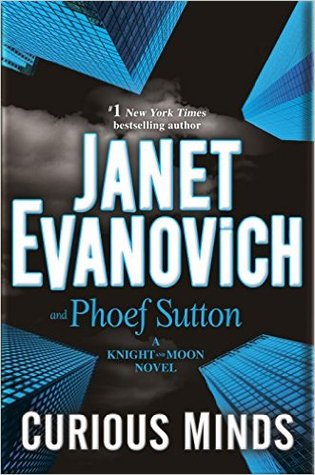 Curious Minds
by Janet Evanovich & Phoef Sutton
Serie
s
A Knight and Moon Novel
Genres: Adult Fiction, Mystery, Action


Publication date: August 16, 2016
Publisher: Bantam
Format: e

book

, 336

pages
How I got it: Netgalley in exchange for an honest review


Buy it: Amazon | Barnes & Noble
My rating: 3/5



Emerson Knight is introverted, eccentric, and has little to no sense of social etiquette. Good thing he's also brilliant, rich, and (some people might say) handsome, or he'd probably be homeless. Riley Moon has just graduated from Harvard Business and Harvard Law. Her aggressive Texas spitfire attitude has helped her land her dream job as a junior analyst with mega-bank Blane-Grunwald. At least Riley Moon thought it was her dream job, until she is given her first assignment: babysitting Emerson Knight.

What starts off as an inquiry about missing bank funds in the Knight account leads to inquiries about a missing man, missing gold, and a life-and-death race across the country. Through the streets of Washington, D.C., and down into the underground vault of the Federal Reserve in New York City, an evil plan is exposed. A plan so sinister that only a megalomaniac could think it up, and only the unlikely duo of the irrepressibly charming Emerson Knight and the tenacious Riley Moon can stop it.
..............................................................................
I am a huge Janet Evanovich fan and love her books. They are easy, quick reads, that I can typically laugh the whole way through and finish in one sitting. I love books that you don't have to focus that much on to read because they are the ea

siest ones for me to get lost in.
This is the first book of the A Knight and Moon Novel following Riley who is working from the Blane-Grunwald bank when Emerson wants to see his gold, she is the one they send to

convenience

him his gold is safe. Riley just started working for the bank so she really doesn't know exactly what is

going

on or really what to say to

convenience

Emerson the gold is safe. Emer

son then decides to take Riley directly to the bank to see his gold.
The book flows in

typical

Janet Evnavoich style where it doesn't really make sense how one event leads to the next, but somehow it really does make sense in the en

d

. So Riley and Emerson know team up to find the

missing

gold and also missing Grunwald. They work up an investigation that Emerson is pretty much leading and putting the facts together. Riley basically becomes

the sidekick and driver for the getaways.
Things I loved was Emerson as a character. He has a zillion quirks to him and his character took on a life of his own. From the wild animals running around his house to his jumping from one clue to the next you could tell he was very intelligent and maybe to intelligent for his own good. I loved the schemes he would come up with to get out of different situations throughout the book. He has a great set of friends in high places and lives a crazy life with all of this traveling. Emerson is

extremely

smart.
Although,

t

his is another series that I felt like didn't captivate my attention enough while reading. I didn't really find that much humor in the book, which is what I have personally come to expect from Janet Evanovich writing. The book is an easy read, but nothing struck out as to crazy to me or very memorable. I probably would read the next book in the series, but for me Riley and Emerson didn't really click as a pair that would bond together. I have also come to expect instant chemistry between the main characters and I didn't get that vibe at all in this book. Emerson's personality is so different from any other character I have read by Janet so I don't think he r

elates well to Riley.
I would suggest this as a

nighttime

read, it was easy to pickup and put down while reading. It is easy to follow along in the story and

remember

what was going on or even just dive right back in and pick up on wha

t is going on.
I

received

a copy of this book from Netgalley for the purpose of

providing an

honest review. This does not affect my opinion of the book or the content of my review.
..............................................................................
About the Author