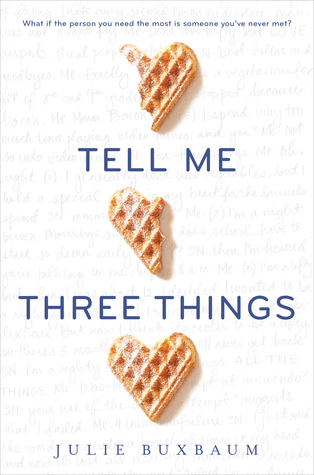 Tell Me Three Things
by Julie Buxbaum
Genres: Young Adult Fiction, Romance
Publication date: April 5th 2016
Publisher: Delacorte Press
Format:

hard

cover, 328

pages
How I got it: I purchased it from Amazon
Buy it: Amazon | Barnes & Noble
My rating:

5

/5



Everything about Jessie is wrong. At least, that's what it feels like during her first week of junior year at her new ultra-intimidating prep school in Los Angeles. Just when she's thinking about hightailing it back to Chicago, she gets an email from a person calling themselves Somebody/Nobody (SN for short), offering to help her navigate the wilds of Wood Valley High School. Is it an elaborate hoax? Or can she rely on SN for some much-needed help?

It's been barely two years since her mother's death, and because her father eloped with a woman he met online, Jessie has been forced to move across the country to live with her stepmonster and her pretentious teenage son.

In a leap of faith—or an act of complete desperation—Jessie begins to rely on SN, and SN quickly becomes her lifeline and closest ally. Jessie can't help wanting to meet SN in person. But are some mysteries better left unsolved?

Julie Buxbaum mixes comedy and tragedy, love and loss, pain and elation, in her debut YA novel filled with characters who will come to feel like friends.
..............................................................................
I have read the first two books published by Julie Buxbaum years ago and I couldn't put them down I just loved them! Julie Buxbaum then became one of my favorite authors so I was excited to read her newest book.
Tell Me Three Things follows Jessie as she has just moved into her stepmothers house with her father. Also, her stepmother has a son who is around the age of Jessie, so now it is 4 people living in a house. Jessie has lost her mother and gets uprooted from her life in Chicago. While Jessie is trying to adjust to her new life and school she starts getting messages from a person who calls themselves Somebody/Nobody. At first Jessie thinks it is a prank and then she starts to really rely on SN for advice and guidance in her new life.
I love the complex relationships that the author creates. I feel like I could completely relate to the characters because of the dynamic that the author created. First we have Jessie and her dad; she is very upset with him because he just completely changed her life and she also feels like her mother wasn't as important to her father. The author really showed us the struggle between these two characters in their relationship. I loved that the story is completely told through Jessie's eyes, but by the end of the book I could tell exactly how Jessie's father felt.
Another relationship that I loved was Jessie and her stepmother. Although this was more of a limited relationship in the book we still get to see a complete picture of what they are both going through by the end of the book. I felt like even though Jessie's stepmother seemed like a back burner character I felt connected.
The author does a great job moving the story along with Jessie's issues. We really get to see Jessie grow and develop as a character. By the end of the book we could see Jessie open up and be able to understand where other people where coming from as well as see a path for herself.
I also loved how the author setup SN so that it could be several different characters in the book and how Jessie sort of pursued all of them. Jessie was constantly looking to solve the mystery of who SN was in the book and by the author leaving all these different hints it really helped the book develop and keep me reading.
I would suggest this as the perfect book to read over the weekend. Once I started reading this book I got sucked in and couldn't put it down. This is also the perfect book to take on vacation it will clear your mind!
..............................................................................
About the Author