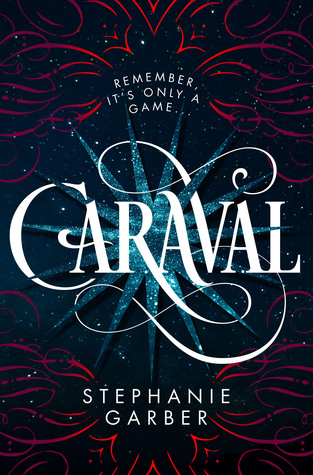 Caraval by Stephanie Garber
Serie
s
Caraval #1
Genres: Young Adult Fiction, Fantasy
Publication date:
January 31st 2017
Publisher:
Flatiron Books


Format: Hardcover,

407

pages
How I got it: My Library
Buy it: Amazon | Barnes & Noble
My rating:

4

/5

Remember, it's only a game…
Scarlett Dragna has never left the tiny island where she and her sister, Tella, live with their powerful, and cruel, father. Now Scarlett's father has arranged a marriage for her, and Scarlett thinks her dreams of seeing Caraval—the faraway, once-a-year performance where the audience participates in the show—are over.
But this year, Scarlett's long-dreamt-of invitation finally arrives. With the help of a mysterious sailor, Tella whisks Scarlett away to the show. Only, as soon as they arrive, Tella is kidnapped by Caraval's mastermind organizer, Legend. It turns out that this season's Caraval revolves around Tella, and whoever finds her first is the winner.
Scarlett has been told that everything that happens during Caraval is only an elaborate performance. Nevertheless she becomes enmeshed in a game of love, heartbreak, and magic. And whether Caraval is real or not, Scarlett must find Tella before the five nights of the game are over or a dangerous domino effect of consequences will be set off, and her beloved sister will disappear forever.
Welcome, welcome to Caraval…beware of getting swept too far away.
.............................................................
.................
I was super excited to read this book since I heard a lot of great things about it and was even more excited when my library had this book available!
This book follows Scarlet and her sister Tella as they try and escape their father who has become a tyrant. Scarlet's father has set an arranged marriage for her and she is set to be married soon and move away from her father. Scarlet has always dreamed of going to Caraval and lands an invitation right before she is supposed to be married. Scarlet heads off with Tella and a sailor named Julian and embark on their journey to Caraval. In the process Tella and Scarlet get separated and Tella ends up being taken by the carnival master Legend. Scarlet now needs to solve all the clues to get her sister back.
Scarlet is a great lead character in this book. I enjoyed how we got bits and pieces of her personality and eventually she became her own person by the end of the book. Scarlet just wants to get away from her father, take her sister and be safe. Scarlet's whole goal in life is safety and she feels this arranged marriage is the answer. As the story continues and Scarlet begins to solve the clues of Caraval and we get to see a lot more of her strength and her determination. Scarlet is very intelligent and can separate real from fake. The author creates a romance between Scarlet and Julian that I didn't see coming, but totally worked in this book. I loved the spark that developed between them and how it didn't just go from zero to 100 the author took her time to develop the relationship.
I loved the relationship between Scarlet and Tella. The story is told from Scarlet's point of view, but we do get to see bits and pieces of Scarlet and Tella's relationship. We can tell right off the bat that they both have two different personalities, but still want the best for each other. I loved how far Scarlet would go to save her sister.
They story flowed very naturally for me. I could follow along well and get into the world the author was creating. The author took her time to describe all the settings of the Caraval that I could imagine myself being there with Scarlet. I loved how everything flowed together from the beginning to the end, the story has a lot of suspense and builds upon itself to create the story. I enjoyed how everything unfolded and can't wait to see where this series can go.
My one complaint about the book was I felt like some parts where a little confusing. I know the author was trying to build an entire world as well as leave us wanting more, but some of the clues and how they came together didn't make 100% sense with me. I wasn't sure how Scarlet was piecing stuff together even after she explained what was going on. Also, I didn't get how one clue lead to the next clue since they were all written out in the beginning. I think I just got stuck on the clue idea and overthought it.
I would suggest this as a weekend read. I felt like there was a lot going on in this book and I couldn't put it down. I just wanted to keep reading to figure out what was going to happen to Scarlet and what was going to happen at the end of Caraval.
..............................................................................
About the Author
Hi! Thanks so much for stopping by this page. I'm only on this site occasionally, so if you'd like to send me a message, please use the contact form on my website:
http://stephaniegarberauthor.com
.
I can also be found on Twitter, and I love connecting with readers. If you're looking for more information about my books, I try to update my website on a regular basis.