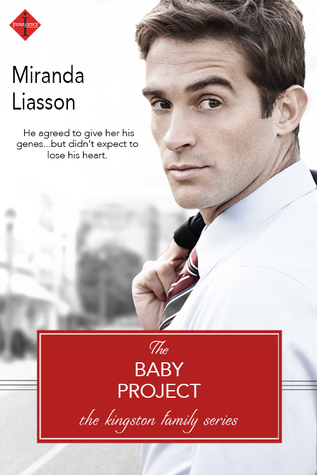 The Baby Project by Miranda Liasson
Genres: Romance, Contemporary
Publisher: E
ntangled Publishing, LLC
Published Date:
September 4th 2017
Format: e

book, 218 pages


How I got it: The author for an honest review.
Buy it: Amazon | Barnes & Noble
My rating:

4

/5
Liz Kingston spends her life delivering babies and longs for one of her own. All she needs is someone with fabulous genetic material. Who better to ask than her sexy ex-fling, who has no interest in ever settling down or being a father.
International correspondent Grant Wilbanks loves danger and travelling the world. But nothing in all this Brit's experience could have prepared him for the way a torrid affair with Liz makes him feel. When she asks for his assistance, he figures he can help her out with a simple donation. No strings, no emotions, just…test-tube science.
But this simple favor gives them both more than they ever bargained for. Grant agrees to her terms, but stepping away gets harder and harder because the more time they spend together, the more he finds himself falling…and losing the battle to safeguard his heart.
..............................................................................
Sometimes I love a second chance romance! This book follows Liz who loves delivering babies and is now ready for her own. Liz recently got divorced and had a fling with Grant the international reporter that she was stationed with while overseas. Liz thought things where more serious than they were and eventually returned home without Grant. Grant was covering a story overseas and made a career mistake and now has been sent to the small town that Liz lives in to cover another story.
I loved that the story is told from alternating POV's of Liz and Grant. While reading I got to see not only how Liz felt, but also Grant about the situation. Liz was trying to stay very level headed and trying not to fall all the way down. Grant was just trying to figure out how he could possibly want more from a woman since he was used to so much traveling and didn't have a steady family life.
Grant grows leaps and bounds in this book. I loved getting to learn about him and his upbringing, which I feel adds a lot to the story and makes the second chance romance work for this book. Grant lost both of his parents at a young age and this has caused him to have commitment issues. Grant has a lot to work through during this book to become the leading guy I was hoping for!
Liz gets the crazy idea that she can have a test-tube baby, for lack of a better word and not get to attached. Liz is a strong and independent woman who wants to take the next step in her life and have a baby. Liz seems to be struggling with some family pressure to have kids as well as wanting to move past her old life.
My biggest issue with the book was sometimes Liz would be on my nerves slightly. Liz was feeling a lot of social pressure to have kids, but not everyone has kids at the same time. Also, she thought she was too old to have kids in her young 30's and she was definitely not too old to have kids.
I would suggest this as a weekend read. The book was very short and fast paced it was a perfect weekend read. I could sit down and get through this book quickly.
I received a copy of this book from the author to provide an honest review.
This does not affect my opinion of this book.
..............................................................................
About the Author
Miranda Liasson loves to write stories about everyday people who find love despite themselves, because there's nothing like a great love story. And if there are a few laughs along the way, even better!
She's a Romance Writers of America Golden Heart winner and an Amazon bestselling author whose heartwarming and humorous small–town romances have won accolades such as the Gayle Wilson Award of Excellence and have been Harlequin Junkie and Night Owl Reviews Top Picks.
She lives in the Midwest with her husband and three kids in a charming old neighborhood which is the inspiration for many of the homes in her books.
Miranda loves to hear from readers! Find her at mirandalisson.com,
Facebook.com/MirandaLiassonAuthor
or on Twitter @mirandaliasson. For information about new releases and other news, feel free to sign up for her newsletter at
http://www.mirandaliasson.com/#mailin...
.