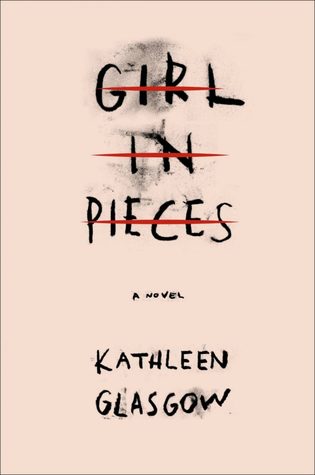 Girl in Pieces by Kathleen Glasgow
Genres: Young Adult Fiction, Contemporary
Publication date:
August 30th 2016
Publisher:
Listening Library


Format: Audio

book

,

10 hours and 43 minutes


How I got it: My public library
Buy it: Amazon | Barnes & Noble
My rating:

5

/5
Charlotte Davis is in pieces. At seventeen she's already lost more than most people lose in a lifetime. But she's learned how to forget. The broken glass washes away the sorrow until there is nothing but calm. You don't have to think about your father and the river. Your best friend, who is gone forever. Or your mother, who has nothing left to give you.
Every new scar hardens Charlie's heart just a little more, yet it still hurts so much. It hurts enough to not care anymore, which is sometimes what has to happen before you can find your way back from the edge.
..............................................................................
This book follows Charlotte Davis who is 17 years old and ends up in a facility to help with her cutting. Charlotte has hard a colorful past, but she is trying to put that behind her and get her life together. Charlotte had to grow up way before anyone should be asked to grow up. She is dealing with some family issues as well as friend issues. Charlotte's best friend tried to kill herself and she feels somewhat responsible for what happened to her.
I guess my biggest issue with the book was the lack of help that Charlotte received sometimes from people who should be supporting her. Charlotte was only 17 and had some major events happen to her in her life. She was working hard to get things straightened out, but some people who were supposedly there to help her really fell flat in my mind in trying to protect her. I wanted Charlotte to be able to succeed and allow her to be herself. Some of the people in her life where strains to her and I didn't want to keep seeing this happen to her in the book I wanted to yell at them for her. I became so invested in Charlotte's story I just wanted what was best for her.
The author does a great job with the story. She kept the characters very natural and it felt authentic as we were taking our journey with Charlotte. The author must have done a lot of research because there were so many emotions in the book that felt genuine of what someone might have gone through in the life that Charlotte is living.
Charlotte gets out of her facility and travels to a new town to stay with a friend. Charlotte ends up getting a job and meeting some new people. A lot happens for Charlotte in this short period of time in her life. The author does a great job giving us some background, but also keeping the story moving along so that you want to know what is going to happen in the end. Charlotte is trying to figure out the adult thing on her own during the book while still dealing with her cutting issues.
The topics in this book are sometimes very challenging to read about. There are issues with cutting as well as drugs. People have all different vices so it was interesting to read about them all combined. The book is very emotional and does carry a large weight with it when reading.
I did enjoy the ending of this book. The author gave me a lot to think about during the book and it was interesting how it all tied together in the end. I can't wait to read another book by this author.
I would suggest this as a weekend read or li
sten.
I needed a lot of time to process what was happening and what was going on.
It was easier to listen to this when I didn't have anything else going on so I could focus on exactly what was going on.
..............................................................................
About the Author
Kathleen Glasgow lives in Tucson, Arizona. She likes Tyrion and Shireen, musty old paperbacks from used bookstores that have cats wandering the aisles, cheesecake, coffee, and the Isle of Skye. Visit her on Twitter (@kathglasgow), Instagram (misskathleenglasgow), Facebook (
https://www.facebook.com/KathleenGlas...
) or her website (
www.kathleenglasgowbooks.com
).