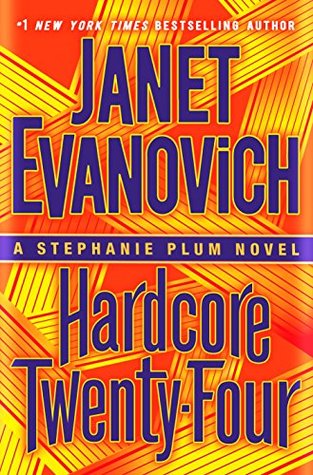 Hardcore Twenty-Four by Janet Evanovich
Serie
s
Stephanie Pl

um #24
Genres: Fiction, Mystery
Publication date:
November 14th 2017
Publisher:
Bantam

Format: hardcover, 320 pages
How I got it: Library
Buy it:

Amazon

|

Barnes & Noble


My rating:

3

/5



Janet Evanovich's #1 New York Times bestselling sensation Stephanie Plum returns in her twenty-forth thriller as mutilated corpses litter the streets of New Jersey...
Trouble comes in bunches for Stephanie Plum. First, professional grave robber and semi-professional loon, Simon Diggery, won't let her take him in until she agrees to care for his boa constrictor, Ethel. Stephanie's main qualification for babysitting an extremely large snake is that she owns a stun gun—whether that's for use on the wandering serpent or the petrified neighbors remains to be seen.
Events take a dark turn when headless bodies start appearing across town. At first, it's just corpses from a funeral home and the morgue that have had the heads removed. But when a homeless man is murdered and dumped behind a church Stephanie knows that she's the only one with a prayer of catching this killer.
If all that's not enough, Diesel's back in town. The 6-foot-tall, blonde-haired hunk is a man who accepts no limits—that includes locked doors, closed windows and underwear. Trenton's hottest cop, Joe Morelli isn't pleased at this unexpected arrival nor is Ranger, the high-powered security consultant who has his own plans for Stephanie.
As usual Jersey's favorite bounty hunter is stuck in the middle with more questions than answers. What's the deal with Grandma Mazur's latest online paramour? Who is behind the startling epidemic of mutilated corpses? And is the enigmatic Diesel's sudden appearance a coincidence or the cause of recent deadly events?
..............................................................................
I have been a big fan of the Stephen Plum series for years now as they are perfect fast paced humor reads. I have read every book in this series and couldn't wait to read the next. I have struggled through the past few with the repetitive nature of the story line, but this one gave me some hope.
This book follows Stephanie as she is trying to hunt down some escapees while feeding a boa and potentially zombies. We have Lulu along for the ride as always during the book. We only get bits and pieces of the relationship with Morelli in this book as well as bits and pieces with Ranger. Diesel is in this book, but doesn't add too much to the story line. He seems as mysterious as ever.
The plot is a typical Stephanie Plum series where it can go in any direction at any time. The story moves quickly along to keep me wanting to read. The zombie story line creates a lot of humor for me as it just seems ridiculous in nature.
I think my saving grace for this book was by far the humor has come back to the series. I was struggling with the last few books there were some funny parts, but other than that they were standard and not to exciting. Finally, in book 24 we are back to the comedy relief that this series provides. The author does a great job bringing in the humor to make this a fast paced read.
My biggest complaint is we still don't have a defined male for Stephanie and it just seems silly now. She goes back and forth between Morelli, Ranger and now add in Diesel. I would love for her to settle down with one, but I guess that wouldn't keep the series going. It is always the same I think she is heading towards Morelli and then back to Ranger.
I would suggest this as a nighttime read. It was very fast paced and an easy read to be able to take your mind off a long day. It was easy enough to read a long portion in a short amount of time, but there were some stopping points as well in the book.
..............................................................................
About the Author
Janet Evanovich is the #1 New York Times bestselling author of the Stephanie Plum series, the Lizzy and Diesel series, twelve romance novels, the Alexandra Barnaby novels and Trouble Maker graphic novel, and How I Write: Secrets of a Bestselling Author, as well as the Fox and O'Hare seri
es with co-author Lee Goldberg.