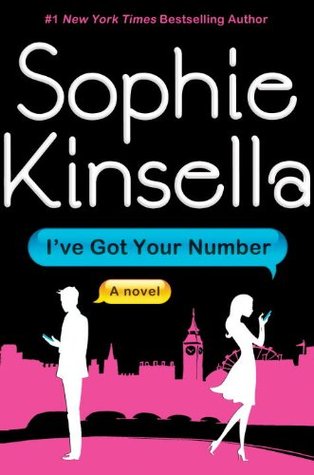 I've Got Your Number by Sophie Kinsella
Genres: Fiction, Romance

, Contemporary, Humor


Publication date:
February 14th 2012
Publisher:
The Dial Press
Format: audiobook,
13 hours, 25 minutes
How I got it: My public library
Buy it: Amazon | Barnes & Noble
My rating:

4

/5
I've lost it. :( The only thing in the world I wasn't supposed to lose. My engagement ring. It's been in Magnus's family for three generations. And now the very same day his parents are coming, I've lost it. The very same day! Do not hyperventilate, Poppy. Stay positive :) !!
Poppy Wyatt has never felt luckier. She is about to marry her ideal man, Magnus Tavish, but in one afternoon her "happily ever after" begins to fall apart. Not only has she lost her engagement ring in a hotel fire drill but in the panic that follows, her phone is stolen. As she paces shakily around the lobby, she spots an abandoned phone in a trash can. Finders keepers! Now she can leave a number for the hotel to contact her when they find her ring. Perfect!
Well, perfect except that the phone's owner, businessman Sam Roxton, doesn't agree. He wants his phone back and doesn't appreciate Poppy reading his messages and wading into his personal life.
What ensues is a hilarious and unpredictable turn of events as Poppy and Sam increasingly upend each other's lives through emails and text messages. As Poppy juggles wedding preparations, mysterious phone calls, and hiding her left hand from Magnus and his parents . . . she soon realizes that she is in for the biggest surprise of her life.
..............................................................................
This story follows Poppy who recently got engaged to the man of her dreams. While out with the girls she was passing along her engagement ring and the fire alarm goes off causing the ring to go missing. Poppy begins the search and in the process, loses her cell phone. Poppy ends up picking up a cell phone from the garage can and it happens to belong to Sam. Poppy and Sam begin an unconventional relationship via the shared cell phone.
Poppy is such an interesting main character. She is trying to do the right thing always and in the process, doesn't realize she is putting herself second. Poppy is working to fit in with her finance's Magnus's family who happen to be all well published educators. Poppy desperately wants to make everything work and be perfect. Poppy gets a lot of bumps handed to her and she handles them well.
Magnus is such an interesting male character for Poppy. They don't seem to mesh well and he does appear to be avoiding her for a good portion of the book, although we only get Poppy's POV so we don't 100% know what is up with Magnus. As we get a closer consider Poppy's relationship we do see some red flags going off with Magnus. I enjoyed getting the background that we did get on Magnus because it helped see what he was thinking.
Sam is a perfect male lead in a book. I can see him being a perfect book boyfriend. He comes off harsh in the beginning, but it does appear he has a higher stress job and that he might need a little help opening up. I loved when we got to learn more about him and see that he acts a certain way due to his end goals.
The author does a great job with the storyline to keep the story moving along. There is a lot of action that happens in a short amount of time. The story is told through Poppy's POV so we get to consider her thinking pattern as well as seeing what is going on with her as it happens. I loved getting to know the characters and couldn't help but root for Poppy while listening. The side characters in the book made the story even better. I loved the comic relief that I got while listening to this book.
The ending of the book was perfect in my mind. It was tied in a perfect bow for me and I love when a novel feels complete.
I would highly recommend the audio of this book.
The narrator was perfect and so easy to listen too.
I loved getting to listen to this story.
It would be the perfect book to read while having a weekend to do nothing.
..............................................................................
About the Author
Madeleine Wickham
(born 12 December 1969) is a bestselling British author under her pseudonym, Sophie Kinsella. Educated at New College, Oxford, she worked as a financial journalist before turning to fiction. She is best known for writing a popular series of chick-lit novels. The Shopaholic novels series focuses on the misadventures of Becky Bloomwood, a financial journalist who cannot manage her own finances. The books follows her life from when her credit card debt first become overwhelming ("The Secret Dreamworld of a Shopaholic") to the latest book on being married and having a child ("Shopaholic & Baby"). Throughout the entire series, her obsession with shopping and the complications that imparts on her life are central themes.