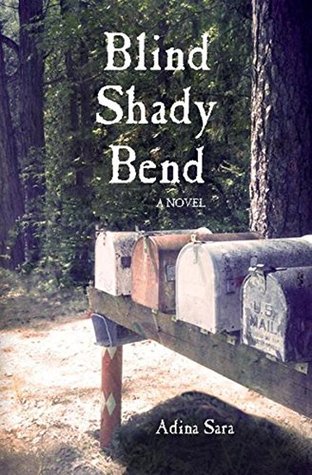 Blind Shady Bend
by Adina Sara
Genres: Fiction


Publication date: August 1st 2015
Publisher: Regent Press
Format: e

book

, 370

pages
How I got it:

Adina Sara for an honest review


Buy it: Amazon | Barnes & Noble
My rating:

4

/5



None of the neighbors considered it trespassing. The run-down shack on five overgrown acres in the Sierra Nevada foothills had been abandoned for years. But their exploits on the land are suddenly threatened when a woman appears out of nowhere, claiming to have just inherited the place. As she starts digging around, she does far more than uncover weeds and rocks: she uproots the very landscape of each of their lives.
..............................................................................
The story is told through the eyes of

several

characters in the book. We are first

introduced

to Hannah an older women who lost her parents as well as boyfriend. She lives alone and no longer works. Hannah receives a letter that her brother had died and left her a piece of land. Hannah hasn't spoken to her brother in many years so she didn't know anything

about his life and felt like this land might be a way for her to connect.
The story then follows other

members

of the town where Hannah's brother Ray once lived. We get to meet Pete the next door neighbor/business partner who seems to be stealing things off of Hannah's property. We also get to meet Robin who is a young man with two young children whose wife left him to raise the kids on his own. Robin eventually signs on to fix up Hannah's house, which really changes the story

path.

We also meet Callie who lives across the street from Hannah's property and has a small baby

.
Since the story is told through the different view points we get to get a complete picture of what is really going on in the small town. We also see how the characters are all related and interacting together. I enjoyed reading about Robin's and Callie's relationship since I wasn't sure if either of them knew what was really going on or how to express emotions. We also got to see Robin through different eyes since he was struggling to commit to anything and really g

row up.
My favorite part of the book was when Robin's daughter Grace was talking about how a family had sort of developed between Hannah, Callie, Robin, Grace, and Timmy. I loved how she could so simply show that not every family member needs to be

truly

related and also how children can easily adapt to someone who is showing them love and care. Also, it showed how much

Grace craved a complete family and needed a mother.
I think that Hannah was a lot smarter of a character then she was given credit for in the beginning of the book until then end. In the beginning it seemed like she was sort of stuck in her life and in a rut. By the end she got all this energy back and was working towards building a business. I loved the character growth the author was able

to achieve with not only Hannah but other characters in the book.
Things I didn't love about the story is I felt like I still had some questions at the end that just didn't get answered. I really wanted Hannah to get a

complete

view of her brother, I felt like I got that as a reader, but Hannah never really g

ot the full story.

Also, Robin's father was just sort of summed up very quickly I felt for the impact that he had on the story. Callie was another character I had lingering questions on what was going to happen to her. Honestly I would love to keep reading about Callie she came across as a very complex character that we might just not know

everything

about just yet.
I would suggest this as a nighttime read. It was an easy book to pickup and put down while still maintaining your place. I also think there were moments of the book that you needed some time to digest what was going on

.
I received a copy of this book from

Adina Sara

for the purpose of

providing an

honest review. This does not affect my opinion of the book or the content of my review.
..............................................................................
About the Author
Adina Sara was born and raised in Los Angeles, California, and moved to the Bay Area to attend the University of California, Berkeley, during the political upheaval of the 1960's. She graduated with a B.A. in English Literature, and promptly married and had two sons.
By the time she was 30, and a single mother, she found work as a clerk typist in a law firm. That short term job turned into a 25-year stint in a string of law offices that not only paid the bills, but provided grist for her first memoir – 100 Words Per Minute: Tales From Behind Law Office Doors.
The better part of her second marriage was taken up remodeling a barely habitable house, and pulling rocks and glass out of a sprawling mess of garden. Her years of taming the landscape provided her with material for her second memoir, The Imperfect Garden, in which she uncovers life's deepest lessons while working in the dirt.
Sometime in the early 90's, she invested in a piece of land in the Sierra Nevada foothills. The purchase turned out to be a bad idea–neither she nor her new husband had the wherewithal to make something of the place. She sold it a few years later and forgot about it. About a decade later, the memory of that land came back to her in a dream, planted its seed, and became the setting for her novel, Blind Shady Bend.
Besides her love of writing and gardening, Adina has been a lifelong musician, expressing herself through the singing of folk, country, classical, jazz and contemporary music. Her decades of broken marriages and personal struggles resulted in three collections of songs Feel A Change (all recordings burned in a fire), Love Song to Myself, and Just For The Song. Since retiring from her singer/songwriter days, she has performed in classical, world music and pop choruses and currently performs with an a cappella trio. Her love of singing grows stronger with age.
Adina resides in Oakland, California with her husband, and makes frequent visits to her native Los Angeles to enjoy the company of her two sons and daughters-in-law, three granddaughters and grandson, who fill her with pride, joy and immense gratitude.