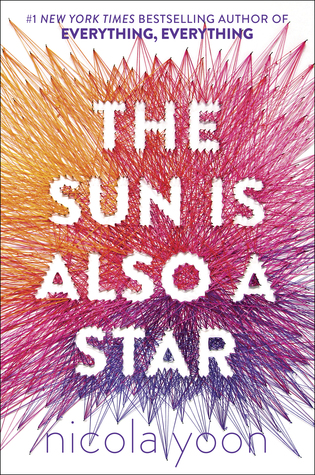 The Sun Is Also a Star

by Nicola Yoon
Genres: Young Adult Fiction, Romance
Publication date: Nov 01, 2016
Publisher: Penguin Random House Audio Publishing Group
Format:

audiobook

,
8 hours, 4 minutes


How I got it:

My local library


Buy it: Amazon | Barnes & Noble
My rating: 5/5



Natasha: I'm a girl who believes in science and facts. Not fate. Not destiny. Or dreams that will never come true. I'm definitely not the kind of girl who meets a cute boy on a crowded New York City street and falls in love with him. Not when my family is twelve hours away from being deported to Jamaica. Falling in love with him won't be my story.

Daniel: I've always been the good son, the good student, living up to my parents' high expectations. Never the poet. Or the dreamer. But when I see her, I forget about all that. Something about Natasha makes me think that fate has something much more extraordinary in store—for both of us.

The Universe: Every moment in our lives has brought us to this single moment. A million futures lie before us. Which one will come true?
..............................................................................
This story follows Natasha who is about to be deported due to her father getting caught and her family not being in the country legally.

The story also follows Daniel who is a Korean boy whose family expects him to go to an Ivy League school and become a doctor.

The two end up meeting under unexpected circumstances and spending the day together.

Daniel's entire goal is to get Natasha to fall in love with him.

The story also deals with the idea of the universe bringing people together and allowing millions of possibilities for a future.
This story is told through the eyes of Natasha as well as Daniel.

We also get views from other people that they interact with during the story.

The author does an amazing job creating a very complete story.

The stories we get from other individuals along the way really do help to complete the idea of the universe brings people together and how decisions made affect others.
I enjoyed Natasha as a character at first I wasn't 100% sure since I was listening to the audio she came off as a little annoying, but once I started to get to know Natasha I couldn't help but love her.

Natasha is a very smart individual and is honestly just trying to help her family as well as helping her future.

Natasha is worried about going back to Jamaica since she left there when she was so young.

The author did a great job with exploring the issues with immigration in one day.

Natasha has a lot on her plate when she meets Daniel and that plays a lot into the activities of the day.
Daniel comes off as a completely different person then Natasha.

Daniel is on a path of finding himself versus trying to save himself or his family.

Daniel isn't sure what he wants with his life and then he sees Natasha and everything changes.

Daniel does have some family drama, but it is different from Natasha's and more has to deal with a bad relationship with his brother.

Daniel is looking for direction in his life to make it fulfilling.
The author did a great job with keeping the story moving along since it takes place mostly in one day.

We got a little bit of background information throughout the book and it felt like right when we needed to learn something it happened.

The author did a great job exploring the topic of how the universe sets us on a path and how other people can affect that path.

I loved how the stories all intersected and the ending was absolutely perfect!
I would suggest this as a weekend listen or read.

The story is very powerful and it really kept me thinking so I needed more time to digest what exactly was going on.

Plus, I needed to know what was going to happen in the end.
..............................................................................
About the Author