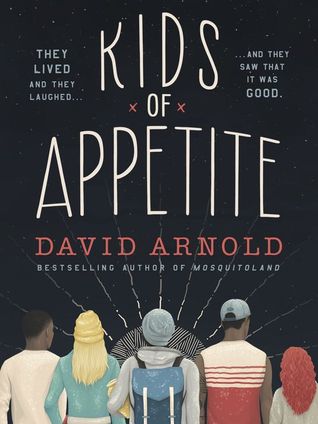 Kids of Appetite
by
David Arnold


Genre: Young Adult, Fiction, Contemporary
Publication date: Sep 20, 2016
Publisher: Penguin Random House Audio Publishing Group
Format: audiobook,
10 hours, 1 minute
How I got it:

I got this from my public library


Buy it: Amazon | Barnes & Noble
My rating:

4

/5



Victor Benucci and Madeline Falco have a story to tell.
It begins with the death of Vic's father.
It ends with the murder of Mad's uncle.
The Hackensack Police Department would very much like to hear it.
But in order to tell their story, Vic and Mad must focus on all the chapters in between.

This is a story about:

1. A coded mission to scatter ashes across New Jersey.
2. The momentous nature of the Palisades in winter.
3. One dormant submarine.
4. Two songs about flowers.
5. Being cool in the traditional sense.
6. Sunsets & ice cream & orchards & graveyards.
7. Simultaneous extreme opposites.
8. A narrow escape from a war-torn country.
9. A story collector.
10. How to listen to someone who does not talk.
11. Falling in love with a painting.
12. Falling in love with a song.
13. Falling in love.
..............................................................................
I listened to the audio version of this book and really enjoyed it.

The book follows around a group of teenagers who are somewhat displaced in society.

The book has two main characters who work together to tell an entire story.

The story goes back and forth between present and past time.

The past time is really only a few days back, but it helps to complete the whole story.

Along the way we get to meet other friends in the book that play a large part in the story.
I loved Victor as a character.

The author did an amazing job creating his character.

Victor's personality was so strong because of his issue, we really got a look into what his life was like as a whole during his chapters of the book.

Victor had recently lost his father and was trying to deal with that situation as well as having a facial condition.

Victor really kept his head held high during this book and I felt like was able to show how strong of an individual he was.

I felt like Victor was not your typical lead character and he was really enjoyable to listen too.
I also enjoyed reading Madeline's sections of the book as well.

The author really made an entirely different lead character who was going through something else in her life.

Madeline was very open-minded and also had a lot on her plate.

I enjoyed how she was a little more mysterious then Victor, which made me want to keep listening to find out what she was up too.
The story flowed perfectly for me by going forward and backwards in time.

I felt like there were really two stories going on at the same time.

We were hearing how they ended up going on this adventure, but also seeing the characters grow and heal over a short period of time.

The author did a great job creating the family dynamic even if someone isn't blood related and showed how the kids of appetite really formed.

The ending of this book was perfect I loved that we got a lot of closure, but also had a few things left open for you to think about what could have happened.
Another favorite part of the book was the setting.

My husband is actually from New Milford so once I heard the town name I was hooked.

I could actually imagine these kids walking around since I was familiar with the area.
I also enjoyed the romance that the author was able to create.

I felt like it was a perfect first love that fit this story.

It didn't feel like the whole book circled around the romance; it felt more like it came on at the perfect moments and really fit both Victor and Madeline's personalities.
My one complaint was that sometimes while listening to the audio I had a little bit of trouble following along.

There were a lot of characters in this book and so in turn there were a lot of different voices on the audio.

At first I was having a real challenge piecing how all of the kids knew each other, but once I kept listening I was able to figure everything out and place everyone.
I would highly recommend listening to this audio book when you have a lot of free time to concentrate.

It was a little challenging to follow along in the beginning and some of the side stories.

I would recommend having a very clear mind and have total focus while listening to this audio.
..............................................................................
About the Author