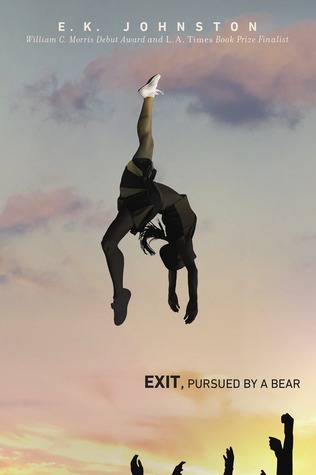 Exit, Pursued by a Bear
by
E.K. Johnston


Genre: Young Adult Fiction, Contemporary
Publication date: Mar 15, 2016
Publisher: Penguin Random House Audio Publishing Group
Format: audiobook, 6 hours, 27 minutes
How I got it:

I got this from my public library


Buy it: Amazon | Barnes & Noble
My rating:

4

/5

Hermione Winters is captain of her cheerleading team, and in tiny Palermo Heights, this doesn't mean what you think it means. At PHHS, the cheerleaders don't cheer for the sports teams; they are the sports team—the pride and joy of a tiny town. The team's summer training camp is Hermione's last and marks the beginning of the end of…she's not sure what. She does know this season could make her a legend. But during a camp party, someone slips something in her drink. And it all goes black.

In every class, there's a star cheerleader and a pariah pregnant girl. They're never supposed to be the same person. Hermione struggles to regain the control she's always had and faces a wrenching decision about how to move on. The assault wasn't the beginning of Hermione Winter's story and she's not going to let it be the end. She won't be anyone's cautionary tale.
..............................................................................
I had read several reviews for the book and knew that I had to read/listen to it.

I am so glad that the audio randomly popped up in my account and I was able to listen to it!

It does deal with a difficult topic of rape, but it does not go into a large amount of graphic detail of the actual incident.
This book follows Hermione as she is entering her senior year of high school and her last year in cheerleading.

Hermione has been going to cheerleading camp for as long as she can remember and has a routine down.

Hermione is also the co-captain of the squad this year with her best friend Polly.

At camp the unthinkable happens and Hermione is assaulted.

The book quickly gets to the assault and deals mostly with Hermione's recovery.
I really liked how the author went step by step with Hermione's recovery.

I felt like I was able to feel what Hermione was going through and be along with her while she was trying to piece everything together.

The entire story is told from Harmonies' point of view so we only get to hear what she is told or remembers.

The author did a great job creating a support system that Hermione was able to grab onto, which I felt really aided in her recovery.
I guess my one major complaint is that Hermione seems to take everything too perfectly.

It feels like everything that is thrown at her she can just take and be ok with.

I understand that all victims go through different experiences and also her not remembering the assault plays a large part on her recovery, but I wanted some out lash from her.

I felt like her only break downs were very quick and resolved just as neatly.
I would recommend this book as a weekend read or listen.

I felt like the topic of rape was very well handled by the author and she gave a lot of respect to the process of what happens after a rape occurs to not only the individual, but also what happens to people around them.

I liked how the author touched on how Hermione's family members and friends felt after it happened.

It was good to see that everyone involved needs time to heal and recover.

This was a very short listen and one that is well worth it.
..............................................................................
About the Author