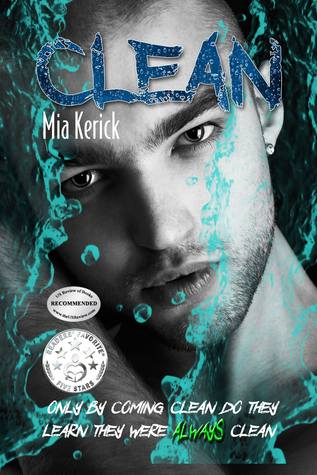 Clea

n
by

Mia Kerick
Genres: Young Adult Fiction, Romance
Publication date:
December 1, 2015
Publisher:
YoungDudes Publishing
Format: e

book

, 30

8

pages
How I got it: Y

A Bound Book Tours for an honest review


Buy it: Amazon | Barnes & Noble
My rating:

5

/5



High school senior Lanny Keating has it all. A three-sport athlete at Lauserville High School looking at a college football scholarship, with a supportive family, stellar grades, boy band good looks… until the fateful day when it all falls apart.

Seventeen-year-old Trevor Ladd has always been a publicly declared zero and the high school badboy. Abandoned by his mother and sexually abused by his legal guardian, Trevor sets his sights on mere survival.

Lanny seeks out Trevor's companionship to avoid his shattered home life. Unwilling to share their personal experiences of pain, the boys explore ways to escape, leading them into sexual experimentation, and the abuse of illegal drugs and alcohol. Their mutual suffering creates a lasting bond of friendship and love.

When the time finally comes to get clean and sober, or flunk out of high school, only one of the boys will graduate, while the other spirals downward into addiction.
Will Lanny and Trevor find the strength to battle their demons of mind-altering substances as well as emotional vulnerability?

Clean takes the reader on a gritty trip into the real and raw world of teenage substance abuse.
..............................................................................
My thoughts:
This books gives the reader a lot to think about right from the beginning

,

it starts off with an overdose and then expands on how the characters got into that situation. The story is very well written in regards to showing the downward spiral of

alcohol

and drugs. I will try my best not to give

to many spoilers.
Drugs are becoming more of an issue it seems in schools due to the abuse of

prescription

medications. I love how the book show

ed

alcohol

abuse and needing a high, which lead to using

prescription

medications. It is exactly how the news

depicts the beginning of

drug abuse. The need to get high takes over and you try different things to achieve that. The author did an excellent job conveying this to the reader. It was easy to see how the drinking lead to the drugs

.
Another aspect of the book that is

very well written

is that

as a reader we

actually get to see what happens after the overdose and how Lanny reconstructions his life this leads people to see there is hope after substance

addiction

. Lanny was sent to a rehab facility and entered a AA program. During the rehab we get to see that the entire family started going to therapy and a lot of the issues that Lanny was dealing with in regards to his family where confronted head on. Lanny also needs to make

amends

with people who he was wronger and that included

Trevor

.
Trevor's life also has some very large issues that he does not discuss with a lot of people and also tries to run away from. Eddie becomes his caregiver during the book and tries to help Trevor to confront his issues. Trevor is not able to fully open to Lanny until he comes to apologize for his wrongdoings. Trevor does not warm up easily, but eventually see that

he can open up to people.
The author takes several large issues of

substance

abuse along with sexual abuse and does a great job writing about them where the reader can understand fully what is going on, but also it doesn't overwhelm the reader. There is enough details that you know what is going on, but not to many details to feel like you can't read through it.
Another issue touched on is

communication

, in the end everything does get better because the characters where able to open up and talk to one

another

. I think that

communication

in any

relationship

is key and trying to ignore issues and not talk about them doesn't help anyone. Lanny blamed himself for what happened to his sister and thought his parents blamed him as well, but in turn they were all feeling the same way, but not communicating it. If they had been talking and maybe gone to group therapy before since it was a major life change would the

alcohol

become a major issue is a question I would

w

ant to ask.
I suggest this as more of a weekend read. It gives you a lot to think about and I feel it takes some time to digest all of this in

formation.

It is not that long of a book so it was easy to r

ead over one weekend.
I was received this from the YA Bound Book Tours for the purpose of providing an honest review. This does not affect my opinion of the book or the content of my review.
..............................................................................
About the Author