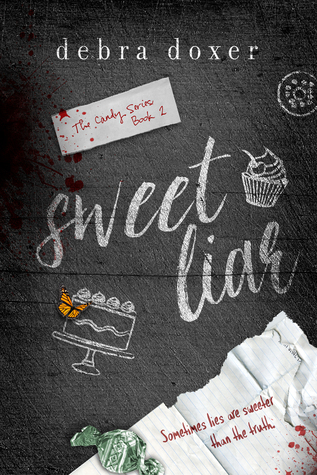 Sweet Liar by Debra Doxer
Series: The Candy Series Book 2
Genres: Young Adult Fiction, Suspense
Publication da
te:
October 20, 2015
Format: ebook, 287 pages
How I got it: YA Bound Book Tours for an honest review
Sometimes lies are sweeter than the truth.

Beauty is alluring; it can disguise the ugliness beneath. But scarred beauty is even more potent to a girl who vowed never to let her heart be broken again. It was an easy vow for Candy to keep until she met Jonah, an arrogant boy with a face that would be too perfect if not for the scar that marred the skin beside his eye.

That imperfect boy earned her trust and won her heart, but the ties that bind people together are fragile, especially when lies are told. Trust is also fragile, and once broken, doesn't heal like a heart. Trust has to be earned again, and Jonah desperately wants Candy's trust back.

But Candy has more than Jonah to worry about. Her father is in trouble, and she intends to help him whether he likes it or not. People tell her he's a bad man, and that may be true, but he's not all bad. Deep down, she understands his brand of badness because she's so much like him.

When Candy finally learns the truth, she'll have to grow up fast, let go of old grievances, and realize that being vulnerable doesn't make her weak. In fact, opening herself up may be the very thing that makes her whole again.
..............................................................................
My thoughts:
Where to begin on this one. I feel like both books almost don't go together. I did enjoy reading the first book, but the second book I thought was a lot better. The story was fast paced and had a lot of more action in it. I loved that we got to see more of what Candy's dad did for work since that was something touched on a lot in the first book, but we had fewer answers. The book didn't really deal as much with romance or high school drama, but more with

higher level drama.
The story continues with Candy who just shot an intruder who happens to be her sort of boyfriend Jonah's dad. Candy's father is then taken into custody by the company he works for and she is told she will never see him again.
I liked that during the entire book Candy was trying to prove her father innocent. She had bling loyalty to him and faith. She believed he would never do anything to hurt her. She would use the mantra what would my dad do to answer questions. We got to see how much compassion Candy had for her father. Also, he was the only family that she had left since her mother had passed away and she didn't get along with her aunt and cou

sins.
I loved the relationship that developed between Candy and Lorraine. Candy was originally comparing

Lorraine

to her mother, but once she got to know her she was able to see Lorraine as her own person. I think this is true in any new relationship you look for similarities from past experiences, but you should

never forget no two relationships will ever be the same.
Heather is one of my favorite characters in the book. She just says the right thing at the right time all the time. I love her ability to help out Candy and also giving Theo a chance. She saw past Theo's disease and saw him for who he is a person. When someone is very ill it becomes challenging for people to see them as who they are. Heather went out of her way to help almost everyone in the book get what they want. She is an unsung hero in my book!

I would love if there was another book based on her!
I would suggest this book for a time when you have an extended time to binge read. I couldn't put it down and read it in one sitting! I needed to know what was going to happen. This would be

a great vacation read!
I was received this from the YA Bound Book Tours for the purpose of providing an honest review. This does not affect my opinion of the book or the content of my review.
..............................................................................
Debra Doxer was born in Boston, and other than a few lost years in the California sunshine, she has always resided in the Boston area. She writes fiction, technical software documents, illegible scribbles on sticky notes, and texts that get mangled by AutoCorrect. She writes for a living, and she writes for fun. When her daughter asks when she'll run out of words, her response always is, "When I run out of time."